Thinking about installing a new bathroom? Well, before undertaking your project, consider what kind of bathroom you want and how large you want it to be. Understanding dimensions is an important step in figuring out what your home needs and what it can realistically support. Below are some common bathroom sizes and dimensions to assist you in your decision making process.
What is the average size bathroom?
An average sized bathroom is anywhere between 36-40 square feet for an apartment or small home. This size is the general size as it encompasses both ¾ baths as well as full baths, giving you just about enough room for a shower, a bath, a sink and a toilet. For a larger home, the average size fluctuates between 40-100 square feet depending on the size of the property.
Common Bathroom size layouts
Below are common bathroom size layouts. In general, the smallest size is 15 square feet, which can fit a sink and a toilet. For a shower, to be installed, at least 30-36 square feet is required. For a full bath consisting of both a shower and a bathtub, you will need at least 40 square feet. Below are common bathroom size layouts ranging from small, medium and large.
Small Bathrooms
3×5
15 square ft
3×6
18 square ft
4×4
16 square ft
4×6
24 square ft
6×6
36 square ft
Medium Bathrooms
7×7
49 square ft
9×6
54 square ft
6×10
60 square ft
9×7
63 square ft
8×8
64 square ft
6×12
72 square ft
9×8
72 square ft
Large Bathroom
10×12
120 square ft
Master Bathroom Dimensions
A master bathroom is generally a full bathroom, but generally much larger to accompany additional space. In general, master bathrooms are connected to the master bedroom, which defines them as such. A small master bathroom is 5×8 or 40 square feet, whereas the typical average is anywhere between 40 square feet-100 square feet. A large master bathroom can go upwards of 110-200 square feet and beyond.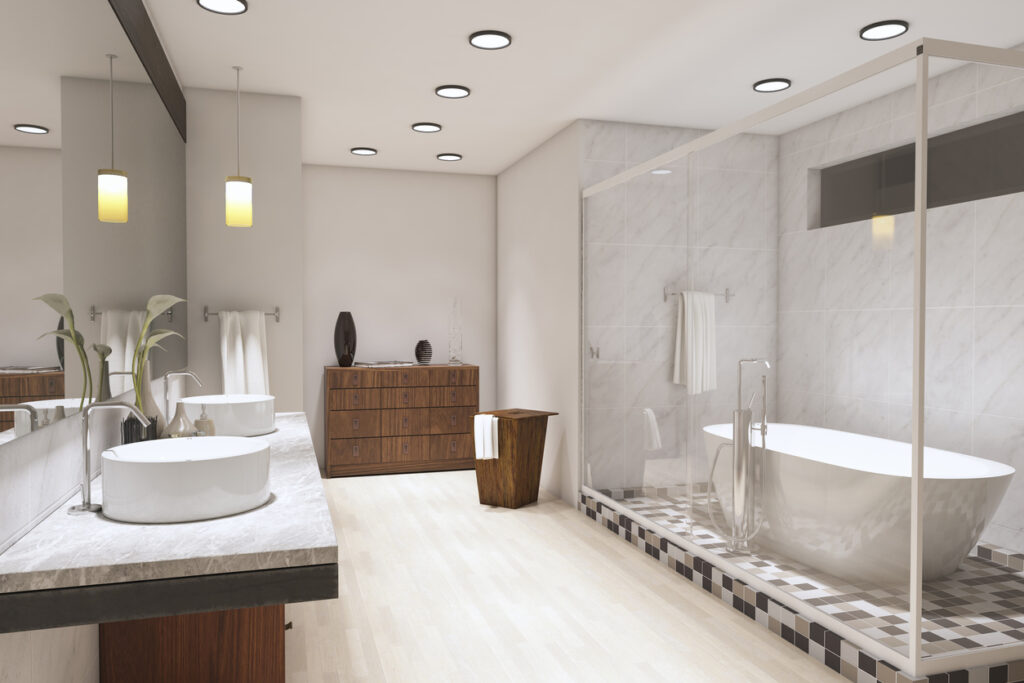 Full Bathroom Sizes
A full bathroom consists of a shower, a sink, a bathtub and a toilet. It is only considered a full bath if it contains these three items and usually needs to be around 36-40 square feet because of the size requirements or 5×8. As stated previously, 5×8 is the small dimension, whereas 6×10 is considered the average for a full bathroom, with 10×12 and beyond on the larger side.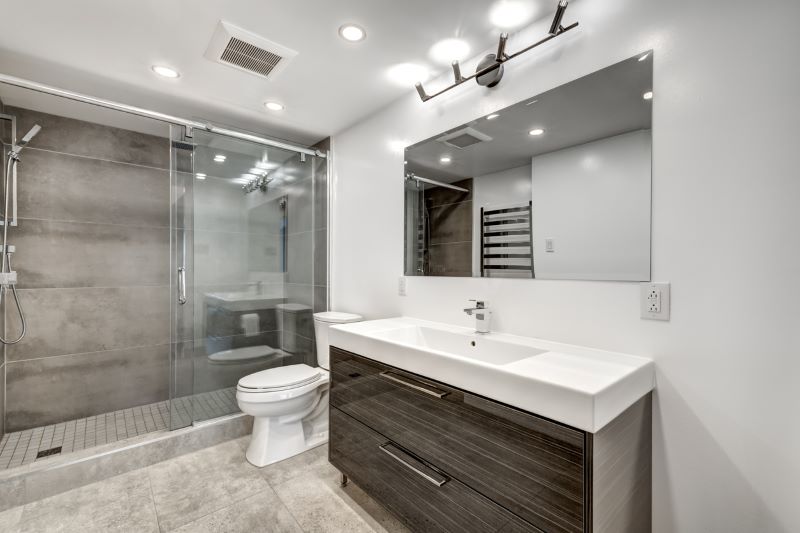 Bathroom with Shower or a ¾ bath
A bathroom with a shower is generally considered to be a ¾ bath, as it only has a sink, a shower and a toilet. The size of your shower will vary, but the smallest bathroom that typically can support this will be anywhere between 26-30 square feet. The common dimensions for this size is either 9×3 or 8×4 which consists of the small range of things. Medium sizes are around 50 square feet with large sizes landing around 60 square feet and beyond.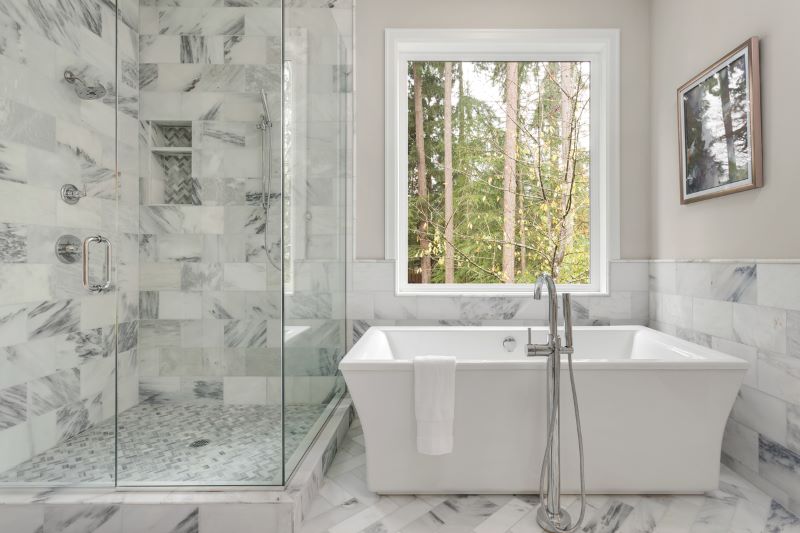 Bathroom with Walk in Shower
A bathroom with a walk-in shower shares many size comparisons to a bathroom with just a shower. The only difference is that these need to be much longer in length to support a larger shower compared to other designs that only need to support a typical box shower.
A small bathroom with a walk-in shower starts at around 36 square feet, with 8×4 being a typical size. For the purposes of most walk-in showers, the length needs to be around 4 yards at least to support the walk-in shower. From this point, the dimensions are the same as a bathroom with a shower-medium sizes are around 50 square feet, large sizes are 60 square feet and beyond.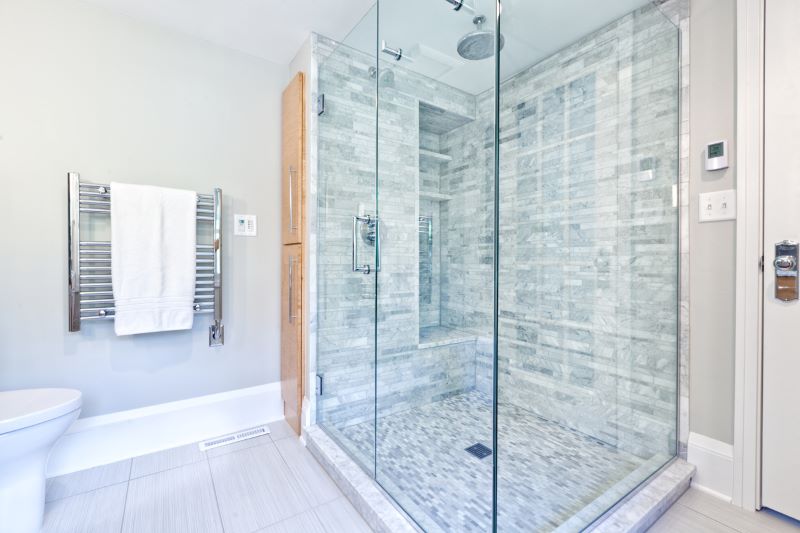 Bathroom with no shower or Half bathroom
The most common layout for smaller apartments is a bathroom with no shower or a half bathroom. These generally are considered powder rooms as they have exactly one sink and one toilet, with very little room for anything else. In general, these types of bathrooms are at least 15 square feet.
They can grow larger, but do not go any larger than 26 square feet as a shower can generally be installed around that size and you are wasting space at that point. To reiterate, 15 square feet for the small end, 18-20 square feet on the medium side, with 26 square feet on the largest side for a half bath.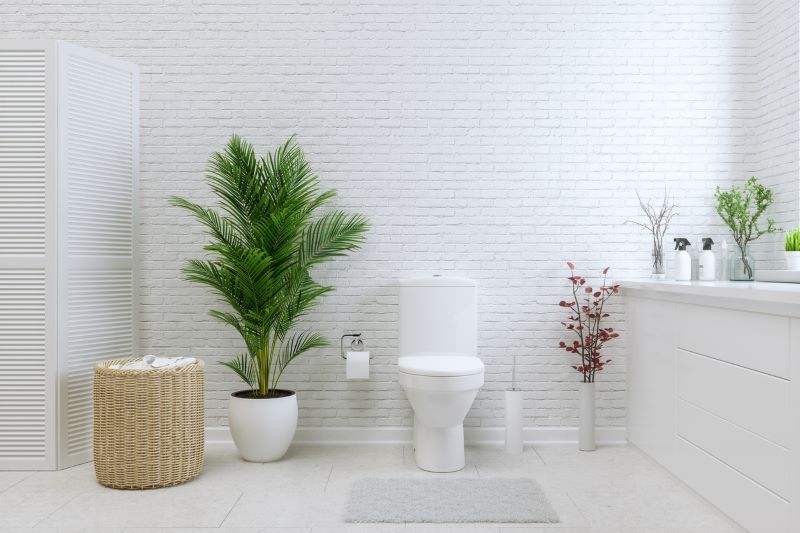 Handicapped Bathrooms
Handicapped bathrooms require at least 3×5 or 15 square feet to be considered a handicapped accessible bathroom. The size itself is not so important, more that the room is a diameter of 5 inches, allowing a wheelchair to move freely without being stuck. The doorway to this bathroom has to be at least 32-36 inches or 2.5 feet wide. The sink cannot be higher than 36 inches high with no more than 2 inches of counter space in between. Lastly, the toilet must be between 17-19 inches off the floor. The handle cannot be higher than 44 inches off the floor. Safety bars and other hand hold supports are also required for a handicap assisted bathroom.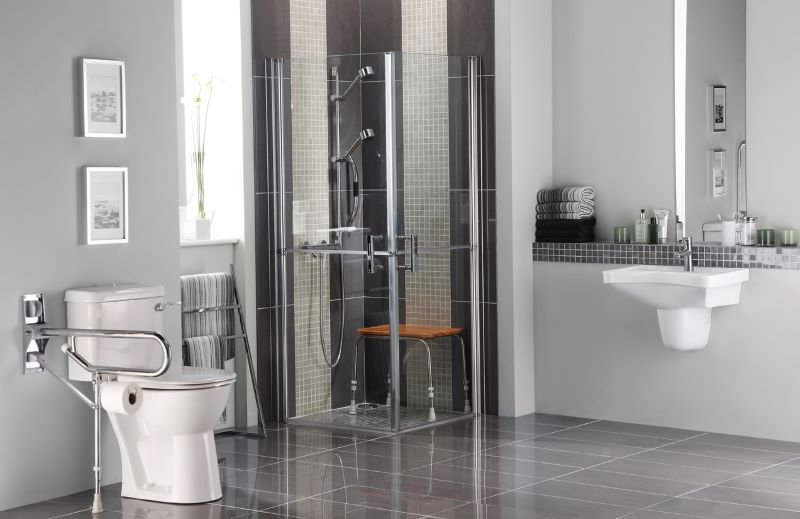 | Bathroom Size | Size Range (sq ft) | Description |
| --- | --- | --- |
| Large | 110-210 | A large bathroom will always be a master bath given the enormous size of the space. Although the space allows for a great deal of customization, it will require a large amount of renovation for your home to accommodate the size of it which is why most homeowners choose to split anything larger than 110 square feet into two full-sized bathrooms for flexibility. |
| Medium | 40-110 | A medium-sized bathroom will always be a full bath given the full range of the space. Although, due to the enormity of the space, many choose to split a medium-sized bathroom into two smaller bathrooms for better functionality. |
| Small | 15-40 | A small bathroom can range from a half bath, to a ¾ bath and finally a full bath. Keep in mind that you need a minimum of 40 square feet to fit all elements of a full bath, so the majority of small bathrooms will be half or ¾ baths. For functionality, it is recommended to have multiple small baths over a singular large bathroom. |
Bathroom Sizes FAQs
Bathrooms are available in multiple sizes to suit a wide variety of household needs, but is your bathroom too small?
1. What is the average size for a master bedroom with a bathroom and walk-in closet?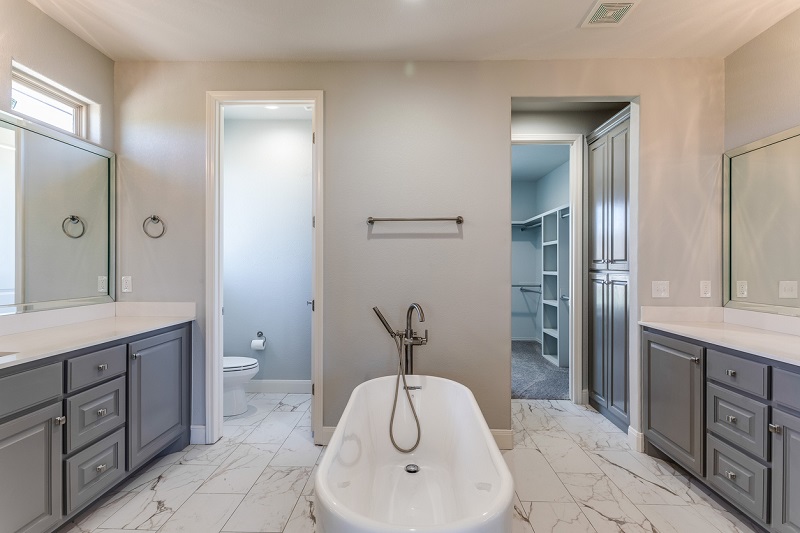 The average size for a master bedroom with a bathroom and walk-in closet is 80-100 square feet.
2. Is a 5X8 bathroom too small?
No, a 5×8 bathroom is the minimal size for a full bathroom, which includes a shower and a bathtub. Although the space might seem cramped, 40 square feet is still a good size for a bathroom.
3. What's the smallest size for a full bathroom?
The smallest possible size for a full bath is 40 square feet. 40 square feet is the bare minimum that fits a bathtub, shower, toilet, and sink comfortably.
Additional considerations
Here are some additional considerations when planning out your bathroom size:
Countertop & Sink Dimensions
When planning out your bathroom sizing, keep in mind that round sink bowls are around 16-20 inches in diameter and rectangular sinks are 19-24 inches wide and 16-23 inches long. Standard vanity dimensions are anywhere between 18-72 inches wide with 24, 30, 36, and 48 inches being the most popular. Vanities have a depth or length of 20 inches but this changes in size and style. Be sure to plan out your sink dimensions to ensure optimal user space for the rest of your fixtures such as your shower, door, and toilet.
Standard Toilet (WC) Dimensions and Clearances
Standard toilet dimensions weigh in around 28-30 inches long or deep, and 20 inches wide with a height of 27-32 inches. You need at least 15 inches from the center of the toilet to the side wall, with at least 24 inches of clear space in front of the toilet.
Shower Enclosure Dimensions
A walk-in shower requires a minimum size of 32×32 inches although 36"x36" is highly recommended for added comfort. When measuring out your shower enclosure, account for the door space and ensure a reasonable amount of space to enter and exit. Shower doors average 22-36 inches wide, so be sure to measure out your space to see if you need a larger clearance for your door to exit and enter comfortably.
Standard Bathtub Dimensions & Clearances
Bathtub dimensions average 60 inches in length, and 30 inches wide, with a height of 14-16 inches. Soaking tubs are larger 30-40 inches wide and 60-72 inches in length. Bathtubs should retain a clear width of 30 inches alongside the entire length of the bathtub. If you can afford the space, 44 inches is recommended for even more available space. Do not overlook this step, as you want added clearance for getting in and out of your bathtub, otherwise, you can risk injury or easy slippage if you do not have enough clearance.
Bathroom Door Sizes and Clearances
Bathroom doors do not have a universal size, but generally, you want to add 2 inches to the width of the door and 2 and a half inches to the height. This will provide you with the approximate room to space the door frame off of the floor. This is important because you want to ensure that your door has enough clearance against your fixtures and easy access to the room.
Eric is the founder and president of Badeloft USA. He has been the president of Badeloft's US division for over ten years and oversees all marketing and branding aspects of Badeloftusa.com.
His expertise lies in small business development, sales, and home and bathroom industry trends and information.
Contact us with any business related inquiries.