20 Master Bathroom Ideas for 2021
by Badeloft | November 30, 2020
A master bathroom is the largest bathroom in your home. Typically a full bath, the master bathroom is usually attached to the largest bedroom in your home or the "Master bedroom." As the largest bathroom in your home, it also provides you a great deal of space and flexibility to style it however you see fit. Today we will discuss the top 20 master bathroom ideas for 2021 and how they can perhaps transform your master bathroom into the ideal bathroom for your home.
1. Cozy Farmhouse Bathroom with a Freestanding Bathtub
Simple and clean, this bathroom blends both classic aesthetics with some modern flourishes. A white aesthetic helps to make your bathroom appear cozy and clean. Wood paneling and vanities can help to achieve a rustic feel and the addition of a large freestanding bathtub can tie it all together and bring a farmhouse feel to your bathroom.
2. Modern Black and White Bath With Dark Wooden Floating Vanity and Freestanding Tub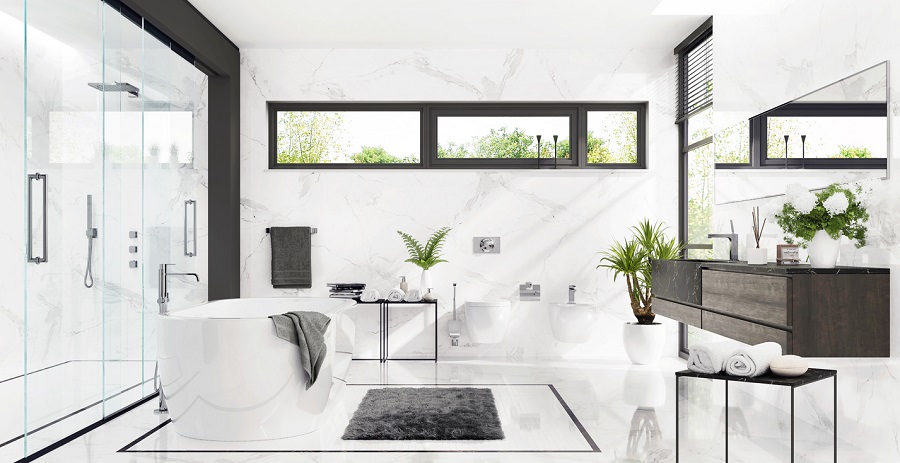 A sleek and modern bathroom, displaying the strengths of modern design. All the fixtures are perfectly symmetrical-saving space while still being aesthetically pleasing. The dark wood vanity helps tie the look together in addition to the natural green of the live plants, breathing more life into the bathroom.
3. Charming Master Bathroom with Natural Lighting and Freestanding Bathtub
Never underestimate the strengths of natural lighting and what it can bring into your bathroom. Here we have a classic bath complete with classically designed fixtures and a freestanding bathtub. However, with the addition of large windows and a few bits of greenery, the mood of the bathroom is bright and cheery, bringing it up from it's more classic origins.
4. Contemporary Master Bathroom with Black and Wood Accents
A sleek and modern design-this bathroom blends the natural traits of wood with darker tones to create an attractive space. With wooden fixtures such as the basin sink and the mirror, this bathroom creates a picture of modern design with just the right color choices and wooden accents.
5. Cozy Traditional Master Bathroom With Clawfoot Bathtub and His and Her Sink
A classic look that is timeless and will never go out of style. Sometimes just a simple clawfoot next to a his or her sink makes a perfect fit for any bath space. A master bathroom provides an ample amount of space, so it can accommodate classic and modern designed bathrooms and there's a reason the classic look is still prevalent-it just works. Using simple white tones helps to make the bath space appear clean and vibrant, with darker vanity colors providing a perfect compliment.
6. Exquisite Black and White Master Bathroom with Balcony
Black and white tones are perfect for making a classic bath space appear more modern. The checkered tile, the darker wood for the vanity and the windows help to provide a good contrast to the whites of the freestanding tub and the smooth and polished look of the wall patterns. With many Master baths having access to a balcony, this gives ample opportunity to provide a lovely view while bathing.
7. Glamorous Master Bathroom With Acrylic Alcove Bathtub and Chandelier
With the right choice of bathtub and fixture placements, you can make any bathroom appear large and spacious. This bathroom uses the more minimalist design of its vanities and bathtub to provide its guests with more space to navigate, creating a more homely environment. In addition, the large pane windows and the chandelier help to create a grand atmosphere that ties it together.
8. Classic Maritime Master Bath with Clawfoot Bathtub
Classic tones work well with any bathroom space. This bathroom uses the soft color pallet of the powder blue walls to accent well with the white vanities and the tile floor. With the powder blue accent, the shine of the clawfoot tub is highlighted even further, helping to create a classic and comforting bathroom.
9. Luxurious Master Bathroom with Freestanding Bathtub
This bathroom uses its space to amplify its more luxurious designs such as the deep pattern walls and elegant vanities. Sporting a full line of his and her sinks, the large mirrors and windows of this bathroom focus on bringing as much light as possible and providing it's guests with a view no matter where they choose to bathe. A modern shaped freestanding tub also provides more bathing options and can be situated anywhere within this space.
10. Spacious Master Bath with Simple Ceramic Vessel and Freestanding tub
A minimalist bathroom can help you achieve the bare necessities without sacrificing any functions of a full bath. This bathroom utilizes it's space well and helps to achieve a cozy feeling with it's wood panel flooring and clean white wall color. The large windows help to bring more natural light into the room which only complements the ceramic vessel sink and the oval freestanding bathtub.
11. Simple Modern Bath with Spacious View and Floating Vanity
A simple modern bathroom design with large wooden vanity and drop-in bathtub. Although it is more simplistic, this small space fits all the aspects of a full bath seamlessly with a floating wooden vanity and a large spacious view to tie it all together.
12. Modern Pink and Black Bath with Matching Vessel Sinks
Experimenting with different colors can produce some great results. This bathroom utilizes the classic look of traditional vessel sinks and blends it well with a vibrant color scheme to make the bathroom modern and sleek. Utilizing the space well, the right colors can make any bathroom appear instantly larger and more spacious with little effort.
13. Polished Gray Marble Walls with White Vanity and Freestanding Bathtub
Using the same material can help to create a more uniform look for your bathroom. In this example, we have polished gray marble walls that blend seamlessly with the rest of the bathroom, helping to create a very modern look. With the right allocation of space, even a small space can be made into a full-bath without any sacrifices for aesthetics and comfort.
14. Serene Wooden and Brick Master Bathroom with Freestanding Bathtub
Your bathroom should be an oasis away from the troubles of your home. With darker and muted colors, your eyes can easily relax, allowing for a more tranquil bathtub soak. The hybrid wood flooring makes it easy for your feet to walk, and the design of the walls means that light won't disturb you unless you wish it to. Lastly, the floating vanities paired with the downlighting provide a perfect compliment, making your bathroom appear more modern and sleek.
15. Spacious Master Bathroom With Natural Lighting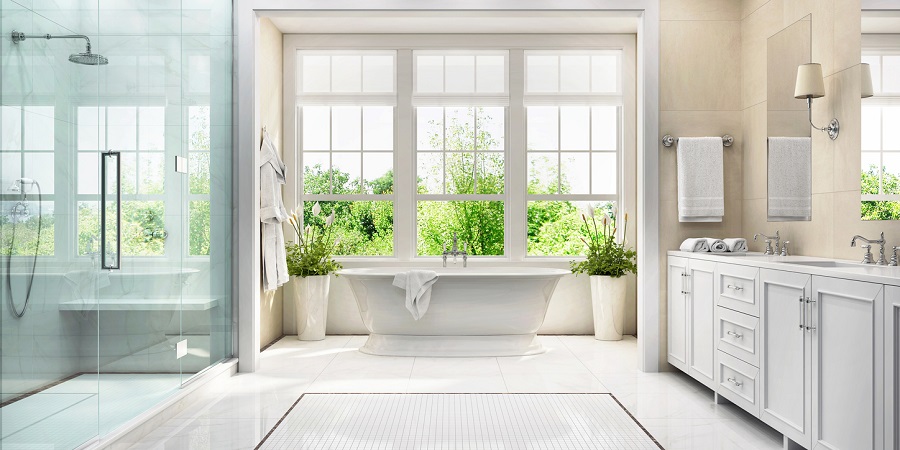 A perfect master bath doesn't need to be filled with fixtures and vanities-sometimes just a large amount of space is all you need. Wide-open spaces help to create a comforting and inviting bath space, perfectly complemented with a great view and a touch of green from live plants. The natural lighting in this bathroom helps to highlight all the best features of your bathroom with minimal effort from you and will certainly make your guests feel welcome.
16. Spa-Like Master Bathroom with Wooden Floating Vanity and Ceramic Vessel Sink
Wooden accents, large circular mirrors, and a subtle tile pattern help to create a comfortable bathroom similar to a spa or a small retreat. Although space may seem small, clever use of spacing can help fit all the necessary aspects of this bathroom. The vessel sink provides a centerpiece for this bathroom, helping to tie it all together which complements the soft whites and brown colors of this bathroom.
17. Symmetrical Mosiac Styled Bathroom with Granite Tile
Remember to experiment with different materials and colors. The mosaic pattern helps to create a regal environment in this bathroom which blends very well with the modern designs of the sink, toilets, and bathtubs.
18. Skyline View Master Bathroom
A contemporary styled bathroom with sleek floor tiling and a granite shower. The large windows draw in natural light and highlight the beauty of the surrounding view.
19. Stylish Sea View Master Bathroom with Large Pane Windows
A stylish bathroom with a lovely seaside view. The window design helps to highlight the surrounding beauty of the nearby sea, providing a lovely compliment to any bathroom. This bathroom shows that with the proper lighting, any bathroom can be a lovely oasis in your home.
20. Modern Bath with Marble Tiles and Modern Freestanding Tub
For those looking for a modern touch for your master bedroom, marble is a great choice for creating a sleek yet affordable material. While it may appear similar to natural stone, it is much lighter in appearance and pairs very well with just about any style of bathtub, helping to make your bathroom appear sleek and modern.
Whether it's classic or modern, your bathroom should always be a place of comfort and relaxation. Hopefully today, you'll have gained some inspiration on how you want to model your bathroom. There are countless designs, color schemes, and materials to work with, so don't be afraid to experiment and one day, you'll have the bathroom that's right for your home.