A shower niche is an open storage space, similar to a cubbyhole that can be installed in the wall of your bathroom, in the shower, tub, or vanity area. The advantage of a niche is that it adds additional storage and not only helps to organize your bathroom space but provides another platform to decorate and add to the aesthetic.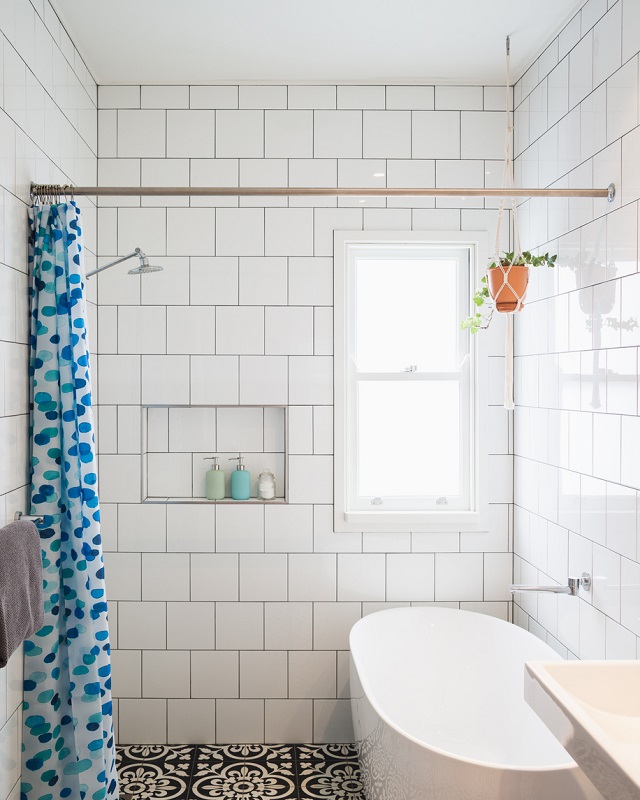 How To Build A Niche In A Bathroom Wall
A bathroom niche is a great DIY project so long as you plan out the project and follow these steps:
1. Make A Plan
The first step to building a niche is to create a plan. This includes selecting the location, measuring out dimensions, and choosing the right finish for your niche. Typical niche dimensions are as follows:
15×15
30×30
60×30
90×30
120×30
2. Select and install your shower niche
Shower niches can either be assembled by hand or you can obtain a prefabricated design. These bathroom shower niche designs from Badeloft are lightweight, durable, and constructed from stainless steel, while other manufacturers are constructed of acrylonitrile-butadiene-styrene or ABS. The shower niche comes 16'' wide and can fit directly between your wall studs.
3. Install Backer Board
Install your backer board around the shower niche. Try to get your board as close as possible to the shower niche edge.
4. Waterproof the niche with silicone
Apply silicon over each screw head and fill the gap between the niche and adjacent backer board. Once the silicone is dry, you can apply a waterproof membrane to further protect it.
5. Install tile in shower niche
Apply a thin-set mortar directly to the shower niche and press the tile in place.
10 Bathroom Wall Niche Ideas
Here we have compiled a few ideas for you to gain some inspiration:
1. Wall Niche Above Sink
2. Wall Niche Next to Sink
3. Contemporary Double Wall Niche
4. Wall Niche Below Bathroom Mirror
5. Full-Width Bathroom Wall Niche
6. Symmetrical Wall Niches
7. Half-width Wall Niche
8. Bathtub Wall Niche
9. Contrasting Bathroom Wall Niche
10. Wall Niche with Lighting
Create A Bathroom Wall Niche and Remodel Now
A bathroom wall niche is a great addition to any bathroom, adding aesthetics and creating storage space. Badeloft offers a large selection of pre-fabricated niches to help create a luxury setting. If you are interested in our bathroom niches, or, if you have any questions about our projects or would like a free sample swatch, contact us here.