While perhaps not the most glamorized part of your bathroom compared to your bathtub, the sink is still a vital part of your bathroom. With the correct materials, one can transform even the most modest bath space into a pocket of luxury. However, before that step, we should figure out what sink can fit in your bath space to begin with. When it comes to installing sinks, the two most common choices are drop-in or cabinet/vanity installation. Which you choose will largely depend on taste and space limitations. Listed below are standard sink sizes, though there really isn't any hard standard-you are ultimately allowed whatever freedom you wish in designing your bathroom.
Jump to a specific section
What are the most common sink sizes?
Standard sink size will largely depend on your bath space and your own individual needs. The two most common types of sinks are round or oval designs and rectangular or square. Generally, round sinks are smaller and generally deeper when it comes to water height whereas rectangular sinks are larger in overall measurements but more shallow in water depth.
Here are the standard sink sizes:
Standard Round Sink Sizes: Round sinks usually run around 16-20 inches in diameter with an average depth of 5-8 inches
Standard Rectangular Sink Sizes: Rectangular designed sinks run 19-24 inches wide, 16-23 inches long with an average water depth of 5-8 inches
How are sink sizes measured?
Sink sizes are measured based on their type. If it's a round sink, you will get the length by circumference of the sink. Rectangular or square sinks will be measured by length and width. Typically if you are measuring out your space for a sink, you should take the interior width and length of the install space, most commonly a cabinet or vanity against the size of the the actual sink. Generally it is advised to leave about 1-2 inches extra when installing, as you will have more room to maneuver when installing.
What are common large sink sizes?
Large sink sizes, most commonly used for washing hair or clothes, start at 34 inches long, 22 inches wide with a general water depth of 12 inches. Though there are also sinks that end at 72 inches wide, 24 inches long with the same water depth, so keep your measurements in mind when purchasing.
What are common smaller sink sizes?
Smaller sink sizes are more common as they can be made to accommodate almost any space which is very handy if your bathroom is space limited. In general, small sink sizes are usually round in design, though they still carry a decent water depth, usually around 6-7 inches.
Small sinks usually run 15 inches wide, 9 inches long, with a water depth of 5.75 inches. On the larger end, small sinks can run 18 inches wide, 10 inches long with a water depth of 7 inches
Sizes by type of sink material:
Stainless
Very popular in many kitchens, stainless steel sinks retain the added benefit of being durable and blemish free. They also give your bathroom a much needed shine and will not be damaged or discolored unlike other sink materials, though overtime as with most steel or metallic surfaces, it will attract water stains.
Smaller Stainless Sinks: Stainless steel sinks are typically 7 inches in diameter with an average height of 6 inches
Larger Stainless Sinks: On the larger side, they run 21 inches wide, 15 inches long with an average height of 7 inches
Stone Resin Sinks
A nice blend to any bath space aesthetically, stone resin conforms to normal sink sizes. The added benefit of the material is that it has excellent heat retention, allowing early morning rinses and shaves to be much more enjoyable. Stone resin sinks will also be a typical rectangular style, though basin and more oval designs can be readily found as well.
Smaller Stone resign Sinks: Stone resin sinks usually run 23 inches long, 15 inches wide with a height of 5 inches
Larger Stone Resin Sinks : On the larger end of things, they run 39 inches long, 19 inches wide with a height of 5 inches
Copper Sinks
Giving your bath space a more rustic look, copper sinks are a bit more interesting on the size end. The nature of copper being a more expensive material also means that your sizes will be a bit limited. These sinks are primarily oval or basin shaped with drop-in being the most common style available in this material, though rectangular designs also exist.
Smaller Copper Sinks: The average size of a copper sink runs 12-16 inches in diameter with a height 6 inches
Larger Copper Sinks: A large copper sink runs around 19 inches in diameter with a height of 6,5 inches
Granite Sinks
Another natural look to your bathroom is Granite. The material overall is a tad pricey, meaning that the size variants or options available will overall be much more limited than other materials unless you wish for a custom project. Like most other materials as well, granite comes in both oval or rectangular designs.
Smaller Granite Sinks: Rectangular granite sinks average at 20 inches long, 16 inches wide with a height of 4 inches
Larger Granite Sinks: The oval or basin shape is 16 inches in diameter with a height of 6 inches on average.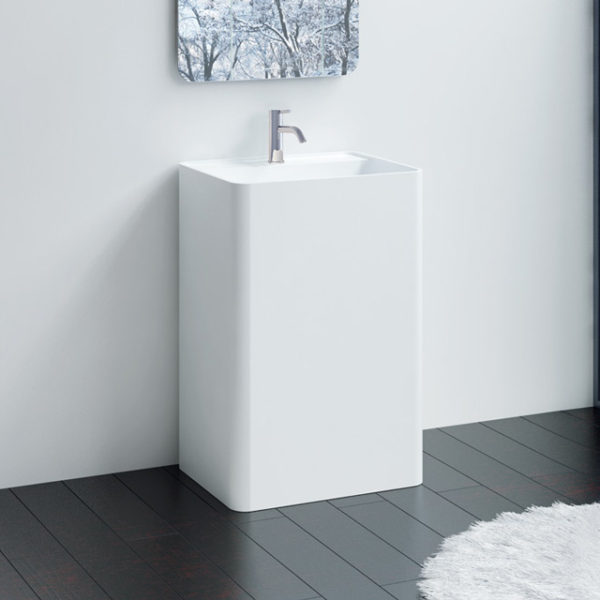 Drop in Sink sizes
Drop in sinks are the most common, as a result, these types of sinks have the most size variants to choose from as they are very easy to install on your own. Just to be clear though, with most drop ins, you want to leave on average about 2 extra inches in both length and height of your space.
Smaller Drop-in Sinks: For a rectangular drop in, average size is 24 inches long, 18 inches wide with a height of 5 inches.
Larger Drop-in Sinks: Oval or circular drop ins average 8 inches in diameter with a depth of 8 inches
Sink Base Cabinet Sizes
Sink base cabinets are another common sink type found in most bathrooms, though your size is ultimately restricted to the average size of the base cabinet installed in your bath space. If you have trouble installing larger sized cabinets, it is often advisable to seek professional help to sort out the plumbing and space needs.
Average Cabinet Sink: The average size of the base cabinet are around 36-42 inches high and 25-26 inches wide. Typically you can fill a 33×22 inch sink in a 36-inch base cabinet.
Double Sink Vanity Sizes
A popular choice for a master bedroom, a Double Sink Vanity by its name, allows you to have two sinks instead of just one. The obvious drawback is that these cabinets are very large and may not fit into every bathroom. The vanities usually start at a minimum of 60 inches wide and can go to 84 inches at the extreme.
Average double sink: The average sink size for this style is usually round or circular with an average measurement of 19 inches by 19 inches with a standard height of 8 inches.
Standard Sink Drain Pipe Sizes
Installing your sink also means understanding standard sizes for your sink's drain pipes. Traditionally most drains have 1 ½ inch outlet that connects to a tailpiece, forming a P-trap pipe configuration. These pipes will generally either be 1 ¼ or 1 ½ inches in diameter and are commonly installed at the base of your sink. If you have a cabinet or a vanity, they are installed underneath.
There is a sink for everyone person out there, take your time. While it may be tempting to choose a dual sink vanity set up, keep in mind the space of your bathroom as well as any additional hassles such as piping and vanity installation. The correct sink can greatly improve the look and feel of your bathroom, and while it may be a steep investment, it is sure to pay off in the long run.
How do you know which sink size to buy?
Which sink size you settle on will be determined by the size of your bathroom, a small sink for a small bathroom, a large sink for a large bathroom, etc. But the actual answer is dependent on what style of sink you want, ease of sink installation and if you want a standalone sink or a drop-in or undermount. If you want a stand alone sink, then you have a great deal more freedom in terms of picking a larger size. If you have a drop-in, you will be limited to the size of your vanity or install base, so it is important to measure your counter top and plan accordingly.