How Much Will a New Bathtub Cost You in 2020
by Badeloft | January 30, 2020
Ever wonder how much a new bathtub is gonna cost you? Between the materials, the installation fees and just the space in your bathroom, it can be very overwhelming. So today, we will be breaking down how much you are looking to spend for a new addition to your bathroom today.
How much does a new bathtub cost?
A new bathtub costs anywhere around $500 for the tub itself. This number drastically changes depending on the material of the bathtub, placing most bathtubs anywhere between $500-2,000 and beyond if you want a more durable and unique material for your bathtub.
Factors to Consider When Thinking About Purchasing A New Bathtub
When purchasing a new bathtub there are a few key factors to consider: Size, Weight and Material. Material will generally inform the first two, so that should generally be your priority as you each bathtub material offers different advantages and disadvantages and you should consider each carefully as it will generally inform what size and styles your bathtub will be available in.
Bathtub Type
Freestanding

, one of the most iconic bathtubs on the market. A classic look to any bathroom, these carry the benefit of being freestanding, allowing them to be placed anywhere in your bathroom. And although they maintain a classic appeal over the years, today, there are enough modern variants to compete with any other bathtub in the market.

Bathtub type also affects the cost of your bathtub. Each type is designed to fill a different role in your bathroom and only certain material can be molded into certain bathtub types.
Drop-in

bathtubs are the most common, giving you a bathtub that is flexible in design and material, allowing it to be "dropped in" to any allotted space.

Corner and alcove

bathtubs are variants of a drop-in, with their design meant to fit in smaller spaces such as a corner.

Undermounts

are nearly identical as drop-in's except they are installed with their rim hidden from view for those that want that aesthetic change.
Bathtub Material
The greatest factor in determining your bathtub's price will be it's material. Material dictates how the bathtub feels to bathe in, it's heat retention, difficulty to install, durability and of course, it's appearance.
Stone Resin ($1,200-$3,000)

, which competes with natural stone, is a composite material that takes the benefits of natural stone such as the look, durability and heat retention while making it much more affordable for all consumers.

Fiberglass($200-$300)

is the cheapest material on the market. It's inexpensive, lightweight and comes in a variety of styles and designs. Because it is so cheap, this material has a great deal of flexibility when compared to other materials. That being said, it's flexibility also means that fiberglass is not incredibly durable and has awful heat retention. The material is also porous, meaning it will absorb water over time, leading to warping and disfiguration down the road.

Acrylic($350-$500) is next, made of acrylic sheets reinforced with fiberglass. This distinction shores up many of the problems with fiberglass, providing a material that is much more durable and non-porous. Although it is slightly more expensive than fiberglass, acrylic bathtubs are seen as one of the most common materials purchased due to its excellent affordability and lasting durability. It's not as flashy as other materials on the market, it simply works.
Porcelain and Cultured Marble ($350-$700)

follow, providing a material that is slightly less durable than acrylic, but possess a more unique visual than the general gloss that one usually associates with acrylic. Both porcelain and marble, need to be maintained and treated more gently than others, but they provide a classic flair that is virtually timeless.

Cast iron($450-$700) is a material that is highly durable and provides the best heat retention of all other materials on the market. The material is also the heaviest of any of these materials and therefore requires special reinforcements on the floor to ensure that it can sustain the weight. Although cast iron is priced similarly to porcelain and cultured marble, the weight requirement is a heavy knock against cast iron.
Copper($2,000-$2,500+) and Wood ($2,200-$3,500+). These two materials provide a unique look to any bathroom and carry some individual charm. Copper is perhaps the most desirable, developing a patina as it ages, enhancing its color. Copper is also incredibly durable and has excellent heat retention. Wood on the other hand, is very expensive and will require replacing every 4-5 years due to the erosion of the material itself, making it an appealing but not practical material for an everyday use bathtub.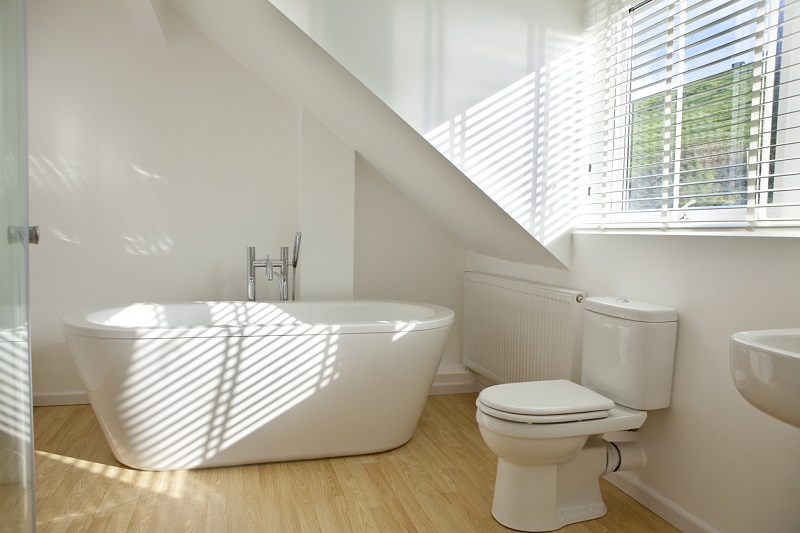 Bathtub Sizes 
Outside of material, size is also an important factor in determining bathtub price. A small bathtub generally is priced at $300-500. A medium bathtub will be priced around $500-750 and finally, a large size bathtub starts at around $800 and can easily climb to $2,000. Bear in mind this only covers the tub itself. Depending on the size of your bathtub you will also have to pay heavier install costs, with smaller bathtubs being much cheaper to install than a large bathtub. Installation costs can vary anywhere between $200-$1,000 depending on the contractor and the size of your tub.
Bathtub Brands
As with most things, brand also greatly impacts pricing. If you want a brand name then be prepared to spend a little extra to get a tub made by that company.
American Standard, Kohler and Mirebelle

all provide bathtubs that are decently priced. The benefit of these brands is that they offer a wide variety of different bathtubs for just about any bathroom. These bathtubs are also very affordable and make a great starting point for any beginning homeowner. The negative however is that since they are made for wide scale commercial use, there is little to no customization that can be done and their materials are somewhat limited.

Jacuzzi

is another popular brand, providing high end hot tubs for years and that popularity means higher mark up. This brand is so popular that their name is now associated with the hot tub itself, almost replacing it. With a brand like jacuzzi, you are certainly paying for the name more than the product itself, so be careful when comparing similar tubs on the market.

Avano and Toto

round this list out, providing bathtubs in a more custom capacity. While some of these are available for retail, a great deal of models from these companies are custom ordered, providing customers with tubs that they can alter to suit their individual needs, and though it may appear expensive, custom ordering is the only way to ensure you get what you need.

 Badeloft a trusted freestanding bathtub brand, has a modern selection of stone resin tubs perfect for a new-age bathroom. They also offer freestanding sinks and high-quality fixtures to match.
Today there are bathtubs for just about any bathroom size and any home. Of course they are pricey investments, so be sure to do your research and get only what you need-it will be worth it in the long run.