Picking out the right bathtub can be quite the daunting choice. Like choosing your first car, there are quite a few things to consider such as your budget and of course the appropriate material for you and your needs. Today, we will be covering just a few of the more common bathtub materials you are likely to encounter and a few of their positives and negatives.
What are bathtubs made out of?
Bathtubs come in a variety of different options. On the cheap end, you have things such as fiberglass, acrylic and ceramic. These are materials that are fairly porous, meaning they absorb water resulting in more hassle and clean for you. On the other end, you have materials such as stone resin, cast iron and copper, which are much sturdier and non-porous. They also carry the added benefit of having high heat retention, which makes your bathtub that much more enjoyable. Here are the pros and cons of the most common bathtub materials; jump to the specific material below:
Fiberglass
What is it: Fiberglass is a kind of reinforced plastic which is formed into layers then molded into a bathtub shape before being coated with a layer of gelcoat resin.
Pros: At very affordable prices, fiberglass tubs are good for those on a tight budget. Due to the lightweight nature of the material used, they are also easy to maneuver around a house and install, plus, any damages can be easily be repaired.
Cons: Fiberglass is also perhaps the most brittle material on the market. Porous in nature, it absorbs water regularly and has a tendency to crack. Color and finish will also deteriorate over time due to the use of common cleaning equipment.The material also has a tendency to 'flex' causing it to warp and feel unstable.
Porcelain
What is it: Porcelain tubs are constructed from cast iron or stamped steel which is then coated with a layer of porcelain enamel-a material made by fusing powdered glass to a thin substrate by heating it at high temperatures, usually between 750 and 850 °C before it melts and hardens into a durable coating.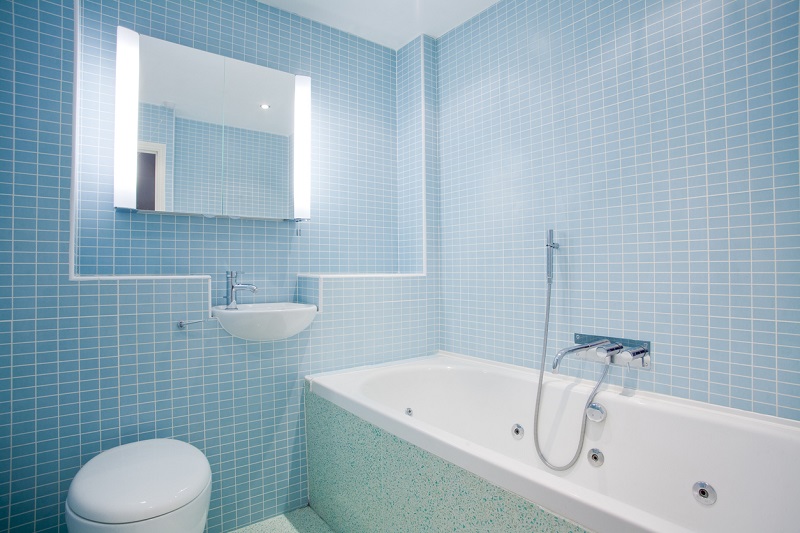 Pros: Porcelain bathtubsmaintain a very nice sheen and luster, and their surfaces are very smooth as well, maintaining an old antique aesthetic. The coating in the tubs are naturally resistant to scratching and cleaning is easy to maintain as a mild detergent or baking soda with warm water will usually knock out any tough stains in a porcelain bathtub.
Cons: Unfortunately for that sheen and luster, porcelain bathtubs are in fact quite slippery, and their surfaces can be quite the falling hazard as a result. Porcelain also does not hold heat very well, resulting in lower heat retention in your bathwater. Durability is also a tricky topic as porcelain is resistant to scratching, but the material itself cannot sustain any hard impacts before chipping.
Acrylic
What is it: Acrylic is formed by taking a solid sheet of combined materials such as petrochemicals, stabilizers, resins, fillers and appropriate dye which are then heated and molded into a bathtub shape then finally reinforced with fiberglass.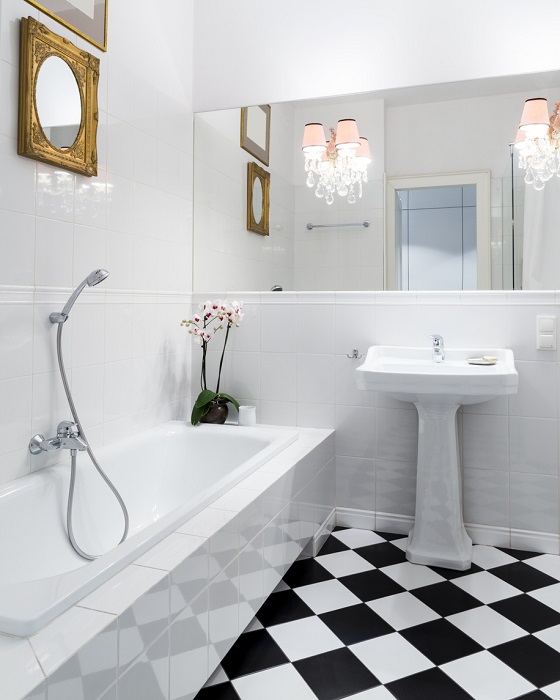 Pros: First and foremost, it is a non-porous material, unlike normal fiberglass and therefore will not absorb any excess water. On top of which, it will also retain heat from the temperature of your water as well as repel any mildew or general bathroom stains.
Cons: Like Fiberglass, Acrylic tubs will also flex, which makes it less stable to stand on and the finish is prone to scratching as well, though not to the quality of fiberglass. You are also looking to pay upwards of eight hundred to a thousand starting, so not a very cheap option.
Ceramic
What is it: Ceramic bathtubs are created by forming numerous ceramic tiles together, which is essentially clay that is heated to high temperatures until it hardens.
Pros: By far, this material contains the most options for bathtub size, shape and general style as it is very easy to mold and place in your home. It is also fairly cheap as well.
Cons: Unfortunately, for the added freedom of choice, you get additional maintenance. You must actively maintain and replace the grout holding the tiles in place or subsequently it will deteriorate and crumble. In addition, due to the makeup of ceramic in general, your bathtub will feel uneven and 'bumpy' therefore making it uncomfortable for your bare skin or to lay in.
Stone Resin
What is it: Stone resin is a material used to mimic the look of natural stone.
Pros: Like with most resin, color does not fade with repeated water use, the material is non-porous meaning it does not absorb water and retains water heat very well. It has an incredibly long lifespan, lasting for quite some time without the need of constant repair and when it needs to be discarded, stone resin is 100% recyclable. Stone resin is also viewed as a more luxurious bathtub material, not to mention the material itself is quite durable and able to withstand a heavy amount of punishment. Additionally, cleaning is simple and easy. Most stains and mildew will wash away with simple warm water while lightly abrasive substances such as Comet or Ajax can be used for more stubborn residues. Stone Resin is the best bathtub material overall for the price and quality. Request a free stone resin material sample here.
Cons: While it may lie on the more expensive side of things compared to Acrylic or fiberglass, stone resin is able to withstand the test of time and will save you quite a bit of hassle down the road.
To feel the quality of stone resin, simply request a free material sample from Badeloft (shown below).
Freestanding Bathtubs
Cast Iron
What is it: Molten iron poured directly into a bathtub mold, before it is smoothed out then covered in a layer of enamel.
Pros: Cast iron is perhaps the most durable tub on the market. With the strength of the material used, it is highly resistant to scratches and chipping, meaning less care needs to be placed on cleaning as well. Speaking of cleaning, most if not all mildew will wash off with just plain warm water and baking soda, and if something stronger is needed, light cleaning solutions such as Comet can be used, but very rarely are required. Also, cast iron bathtubs have the high heat retention, meaning your bathtub will keep warm for that much longer.
Cons: Durability also means weight. Cast Iron tubs are incredibly heavy, perhaps the heaviest of any tubs on the market currently. The result is that additional considerations must be made to your house and the support structure around the tub before installation. You are also looking at a hefty price, considering the materials involved and the additional work that goes into supporting the space around it.
Cultured Marble
What is it: Invoking the appeal of the Romans, cultured marble is made from crushed limestone and resin then finished with a layer of gelcoat.
Pros: As with most marble, it retains heat very well while also maintaining an easy, natural look. It also comes in a wide variety of shapes, sizes and color and while not completely scratch resistant, it is quite easy to repair the finish with car wax or other silica products.
Cons: As with most marble, it is quite heavy and with the additional weight, it is also quite expensive. Cleaning is also a bit of a hassle as Cultured Marble requires considerable care. Your bathtub should be cleaned after each use while still wet with a mixture of soap and distilled vinegar. If regular maintenance is not kept up, you are looking at pretty harsh discoloration and mildew build up over time.
Copper
What is it: Copper bathtubs are made from hammering multiple sheets of pure copper into the shape of a bathtub.
Pros: Similar to a cast iron tub with more of an attractive feel. While also being aesthetically pleasing, a copper tub also maintains good durability, being naturally resistant to scratches and other chipping that may occur. Also, for those who do not enjoy cleaning or maintenance, maintaining a copper tub is very simple and does not require the need of harsh cleaning chemicals whatsoever. Most of the benefits of a copper tub are the aesthetic aspect
Cons: Similar to the cast iron, this tub is also very heavy as well. It is also fairly rare or harder to find than most, making it's price point one of the highest compared to other bathtubs on the market.
Wood
What is it: A custom made bathtub using a variety of different types of wood.
Pros: Aesthetically pleasing with a nice genuine, natural feel to it. Also, since wood is easy to work with, wooden bathtubs can be any shape or size depending on your tastes and does add a certain sense of luxury to your bath time.
Cons: Luxury does come at a heavy price though, as wood in regular contact with water means that your bathtub will not last very long compared to nearly all other bathtubs on the market. Additionally, special considerations must be made in your home to accommodate a wooden tub, such as space and framing. Cost is also a large part of why wooden bathtubs are perhaps not as popular. In addition to the initial cost of the bathtub, regular maintenance must be kept to ensure the longevity of your bathtub. Overuse will invariably wash away the resistant sealing, rotting the wood quicker, while underuse will dry out the wood, speeding up the rotting process. Overall, it is quite a hassle to own a wooden bathtub.
Regardless of which tub is more comfortable or sturdier, at the end of the day, the most important thing is to research your tub before buying. Purchasing a tub is an investment. An investment not only in your home, but in yourself as well. Are you looking for more in-depth information about bathroom materials?