When it comes to choosing a new bathtub, understanding all the brands on the market is crucial for making an informed choice. Oftentimes, you are likely paying for the brand name instead of the actual quality of the bathtub. So today, we will look at the most popular brands of 2023 and see the unique qualities each of these companies can bring you.
Badeloft
Founded in late 2009, Badeloft is an online retailer for a Berlin-based bathroom boutique with their primary offices located in the Bay Area. Badeloft's specialty is Cast Stone luxury brand Freestanding bathtubs and wash basins. Although fairly new, they are quickly making a name for themselves as a pre-eminent supplier of luxury Freestanding bathtubs at an affordable price. In terms of pricing, they sit on the medium-high end of the pricing spectrum. Badeloft bathtubs are available for purchase through their online storefront.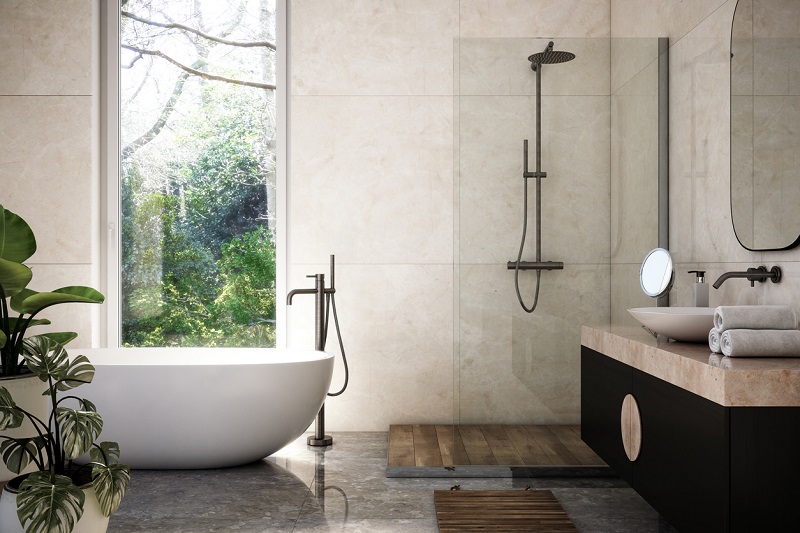 Kohler
Co-Founded in 1873 by Austrian immigrant John Michael Kohler and Charles Silberzahn, the Kohler company began as the Sheboygan Union Iron and Steel Foundry. Their early products included cast iron and steel farm implements until 1883 when John Kohler created the company's first bathtub by applying enamel into a cast-iron horse trough. Since then, they have been supplying plumbing products for both commercial and private use. Having been in business for more than 150 years+, Kohler has garnished itself as a fixture in the home appliance industry. They are best known for providing nearly every type of bathtub available such as Alcove, Drop-in, Walk-in, Corner, Jetted/Whirlpool and Shower/bathtub combinations. Although they have a large selection of types to choose from, their material is fairly limited-usually acrylic. Kohler brand products tend to sit on the medium-high end of the bathtub price spectrum, and their broad selection of many bathroom products such as faucets, toilets and bathtubs have made them a household known for many homeowners. Kohler brand products are available for purchase through both in-store retail locations as well as online vendors.
American Standard
American Standard was founded in 2008 after the division of American Standard Companies, which sold the namesake to Bain Capital Partners. Shortly after, American Standard America merged with Crane Plumbing and Eljer to create American Standard Brands. Similar to Kohler, American Standard is another big name in home appliances, providing a large range of home appliances to the general public such as faucets, toilets, and sinks to name a few. Their offerings include Drop-in, Alcove, Corner, Jetted/Whirlpool, Shower/bathtub combinations and Soaking tubs. And similar to Kohler, many of their offerings are generally constructed from acrylic. That being said, American Standard is typically perceived as the more affordable of the two, offering products on the low-medium end of the price spectrum, making them the "American Standard" for many businesses and homes across the country. American Standard bathtubs can be found in many retail locations such as Home Depot and Lowes Hardware.
Sterling
Sterling began with brothers Clark and John M. Beggs in Pittsburgh, Pennsylvania, creating household gas valves in 1907. In 1931, the company was renamed to the Sterling Faucet Company, specializing in the production of faucets. Then, after 60+ years of manufacturing faucets, Sterling was acquired by the Kohler company in 1999. They offer Drop-in, Alcove and Freestanding bathtubs all constructed from acrylic. Their bathtubs are seen as a more affordable alternative to their parent company, putting their pricing range between the low-medium end of the bathtub spectrum. Sterling has created a reputable history for itself with it's faucet manufacturing, but that reputation is not the same since their acquisition by Kohler. You can find Sterling bathtubs at any neighboring retail location such as Home Depot and Lowes Hardware.
Mansfield
Mansfield Plumbing began in 1929 as the Mansfield Sanitary Pottery, Inc in Fredericksburg, Ohio. In 1976, Mansfield Sanitary would be known as Mansfield Plumbing before being acquired in 2000 by the Stamford Capitol Group. Similar to Kohler and American Standard, Mansfield creates a wide variety of plumbing products such as sinks, toilets and faucets. The primary bathtubs they specialize in would be Alcove, Walk-ins, Drop-in, and Jetted/Whirlpool. Mansfield is a well known company through its years of creating bathroom appliances such as toilets. Their products are generally considered on the medium-high price spectrum for bathtubs. You can find Mansfield products at Lowes Hardware and any neighboring retail location.
Kingston
Founded in 1998, Kingston Brass is a fairly new company that creates higher quality bath and kitchen appliances. Their products include faucets and sinks for both bathrooms and kitchen as well as many plumbing parts that other bathtub companies do not deal in. Their extensive catalogue of products covers almost every basic need for a home installation such as shower heads, spouts, drains and a wide variety of washers. The bathtubs they specialize in are Freestanding, Drop-in, Alcove, Clawfoot and Soaking tubs. These bathtubs are available in stone resin, cast-iron and acrylic. Their prices are standard to high for most bathtubs on the market. Kingston products are available through their online website or through their number.
Colston
Established in India, in the year 2000, Colston Bath specializes in high end bath products. These include waterfall and whirlpool baths, in addition to outdoor pools and hot tubs. Many of their products are designer, so they tend to be quite expensive or on the high end when compared to other bathtub companies. The bathtubs they offer are jetted Freestanding bathtubs, Luxury bathtubs and walk-in showers, but everything is customizable and designed to create a spa and hydrotherapy experience for their customers. Colston baths are available for purchase through request-only on their official website.
Jaquar
Created in 1960, the Jaquar Group began by selling faucets, showers, shower enclosures, sanitary ware, flushing systems, water heaters and various lighting products. The company has existed for 60+ years and continues much of the same offerings as it did before, but with the inclusion of bathtubs as well. These bathtubs include Whirlpool/jetted, Drop-in and Freestanding bathtubs, all which are constructed from Lucite Acrylic. The company is quite reputable in India and Southern Asia and their prices are average when compared to other bathtub companies. If you wish to purchase a Jaguar bathtub, they are available in Southern Asia retail locations and through their online website.
Maykke
Founded in 2014 as a startup, Maykke is designed to create high quality home furnishings and deliver it directly to the consumer without having to negotiate with a third party. In terms of bathtubs, they have a small selection of Freestanding tubs. These bathtubs range from acrylic to cast-iron and while there is little in the way of color choices, the reduced price is quite agreeable for a large majority of homeowners. If you want to purchase a bathtub from Maykke, create an account and visit their website.
Hindware
Founded in 1960, Hindware Homes is a trusted brand in India for the past 60 years. Similar to Jaguar, they specialize in showers, sinks and sanitary systems such as toilet and water systems. In terms of bathtubs they offer Alcove, Corner and Drop-in options, all constructed from acrylic. They have an extensive reputation in India and Southern Asia, but they are less well-known in the States. Their bathtub prices sit on the average spectrum when compared to other companies. If you wish to purchase a Hindware bathtub, visit their website.
Roca Parryware
Founded in 1952, under the Parryware name, they would eventually merge with Roca group based in Spain in 2008. As one of the leading sanitary brands in India, Roca Parryware specializes in toilet, water systems, sinks, faucets and now shower and bathtubs as well. In terms of bathtubs, they offer Jetted and Drop-in options, all constructed from Acrylic. The price is about average for the style and quality. The brand is popular in India and southern Asia, but may not be as familiar in the states. If you wish to purchase a Parryware bathtub, visit their website.
Woodbridge
Founded in 2005, Woodbridge Bath is located in California and offers a wide variety of products mostly pertaining to the bathroom. These products include sinks, toilets, faucets, vanities, doors and countertops. Their bathtubs include Drop-in, Alcove, Walk-in, Whirlpool/Jetted, and Freestanding. Woodbridge's specialty lies in their freestanding bathtubs that include jetted features. These bathtubs are constructed from acrylic with a stone-resin finish to protect it. Since Woodbridge is still a fairly new company, not much is really known about the company and its products. Their pricing range is about average-high when compared to other companies on the market. Woodbridge bathtubs are available for purchase through their website.
Ove Decor
Founded in 2004, Ove Decor is created by a family-owned five person team. Their products include home furniture, bathroom appliances such as sinks, toilets, faucets and lights. Their bathtub catalogue includes Freestanding bathtubs constructed from acrylic. Since they are fairly new, having only operated for little more than 15 years, their company is still fairly unknown, although their pricing range tends to sit on the average to high end of the spectrum. If you are looking to purchase Ove Decor, you can find them in many retail outlets in the US and Canada such as Costco and Home Depot, in addition to their online storefront.
Kaldewei
Founded in 1918 by Franz Kaldewei in Ahlen, Germany, Kaldewei has extensive experience creating bathroom appliances. They offer Freestanding, Drop-in and Alcove bathtubs all constructed from steel enamel and finished with a wide variety of materials, providing a large array of color customization compared to other bathtub companies. In addition, Kaldewei's speciality is that all their bathtubs are specially made and can be custom created to fit an individual's bathroom needs. That being said, a custom bathtub is not exactly cheap, so their prices are slightly above average. In addition, Kaldewei is not exactly a well-known company in the United States due to their origins in Germany. However, their bathtubs are also sustainable and created from recyclable material which cannot be said for many of the other companies on this list. To purchase a Kaldewei bathtub, visit their website or visit their storefront in New York City.
Vanity Arts LLC
Based in Sacramento, California, Vanity Art is a partner with ISO 9001:2000 manufacturers in China. They specialize in furniture, lighting fixtures, appliances, and bathroom fixtures. They offer a wide range of freestanding bathtubs, all constructed from acrylic. Their products can be purchased through their official site and many retail organizations.
Signature Hardware
Founded in 1999 by Matt and Mike Butler in Northern Kentucky, Signature Hardware has slowly made a name for itself by offering unique bathroom fixtures to it's retail base. Compared to other manufacturers, they provide an incredible range of freestanding bathtub variants, including clawfoot, soaking, slipper, drop-in, jetted, and alcove tubs. These bathtubs are available in copper, acrylic, cast iron, solid surface, and stainless steel, giving you a wide range of options to choose from and customize your bathroom the way you want. Signature Hardware bathtubs and fixtures are available through their website and verified retail vendors.
Mansfield
Founded in 1929, Mansfield Plumbing Products (MPP) produces plumbing fixtures and fittings for residential, commercial, and institutional markets. MPP was purchased by Corona in 2004 and continues to operate with multiple plants across the United States, Puerto Rico, and Canada, with over 4,000 distributors in their network. Their current line of products includes vitreous china toilets, lavatories, urinals, acrylic air-baths, whirlpools, bathtubs, and shower bases. Their product line continues to expand, offering a wide range of mass-market toilets, bathtubs, and shower fixtures. You can purchase their products through their website and many retail organizations.
Aquatica
Formed in 2003 and acquired by the Engineered Stone Group in 2021, Acquatica provides quality bathtubs and bathroom fixtures. They offer corner, freestanding, drop-in and alcove bathtubs along with all bathroom accessories such as sinks, toilets, shower heads and jetted tubs. Their material ranges from solid surface, composite materials, wood and acrylic. Their offerings are unique compared to traditional stores, so be prepared to pay for the added luxury. You can find Aquatica bathtubs and their products on their website.
Duravit
Founded in 1817 and located in Hornberg, Germany, Duravit is a primary manufacturer in porcelain bathroom fittings. In recent years, they have diversified their products to both acrylic freestanding bathtubs and drop-in bathtubs. They also provide a wide range of toilets, bidets and sinks. You can order their products through their website and some licensed vendors.
Delta
Founded in 1958, Delta has now bloomed into 4 major flagship brands: Peerless, Brizzo, Delta, and First Wave. These companies all manufacture different styles of faucets and fixtures for both kitchen and bathroom needs. In addition to furniture and fixtures, Delta offers a versatile range of freestanding and drop-in bathtubs all available in acrylic with multiple finishes such as nickel, brass, chrome, and matte. Delta products can be found in many retail locations and through their website.
Eric is the founder and president of Badeloft USA. He has been the president of Badeloft's US division for over ten years and oversees all marketing and branding aspects of Badeloftusa.com.
His expertise lies in small business development, sales, and home and bathroom industry trends and information.
Contact us with any business related inquiries.