Why are freestanding bathtubs popular in 2021
by jbadeloft | January 31, 2021
Traditionally, freestanding bathtubs are seen as expensive and extravagant purchases when compared to traditional bathtubs. But 2021 has seen a large increase in the popularity of the freestanding bathtub.
Today, we will be looking into why this bathtub is growing in popularity and why it is quickly becoming the primary bathtub of choice for many homes.
The benefits of freestanding bathtubs
1. The styles
One benefit of freestanding bathtubs would be a large diversity of styles. Compared to drop-in tubs, freestanding bathtubs are available in a large variety of shapes and sizes. These styles include classic clawfoot, modern rectangular and oval designs and the natural soaking tub. Diversification of styles allow freestanding bathtubs to fit a wider variety of bath needs compared to other bathtubs.
2. Luxurious look and feel
Freestanding bathtubs are made from a higher quality of materials, providing users with a more luxurious aesthetic and feel. The better materials results in a more comfortable and relaxing user experience while bathing. In addition, a freestanding bathtub can easily upgrade an ordinary bathroom and make it appear more luxurious and more expensive than it actually is.
3. The Cost
Traditionally, freestanding bathtubs are considered more expensive than other bathtubs on the market. However, due to manufacturing efficiency over the past 5 years, freestanding bathtubs have become much more affordable. This means you can obtain a freestanding bathtub that emulates the look and feel of more expensive material such as natural stone for just a fraction of the price. In addition, a freestanding bathtub can be installed anywhere in your bath space, lowering the overall install cost compared to other bathtub styles.
4. The Value
Freestanding bathtubs hold their value much better than traditional tubs. This also translates to an increase in the resale value of your home. This is because freestanding bathtubs are seen as a much more attractive asset to your home compared to a drop-in tub.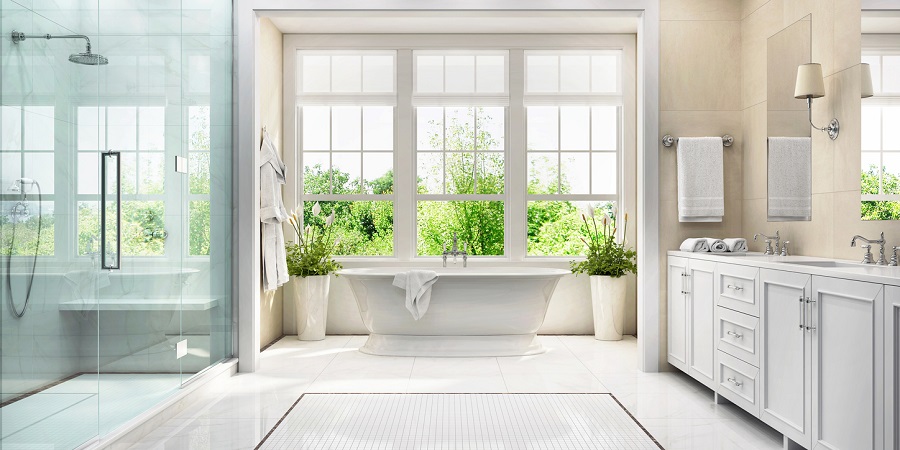 Additionally, freestanding bathtubs are made of higher quality material resulting in higher durability that can withstand the test of time, only increasing it's overall value.
5. Ease of installation
Installing a freestanding bathtub is a straightforward and easy process as it does not need a drop-in recess and can be placed anywhere. Since the bathtub consistent of one large piece, you simply can lift and place it where it needs to go. Ensure that the plumbing aligns with the bathtub and your installation is complete. Just keep in mind that depending on the material of the freestanding tub, you will require additional assistance as they can be quite heavy.
6. Placement
As stated previously, a freestanding bathtub can be placed anywhere in your bathroom. This is contrary to drop-in bathtubs that require a carved out recess in order to be placed. This provides greater flexibility for freestanding bathtubs as different sizes can be placed to fit any bathroom.
It also allows for larger creativity in making your bathroom stand out-moving your bathtub near a large window or placing it near a large painting or live plants can add a unique look and vibrancy to your bath space.
7. Material Diversity
Freestanding materials are constructed from higher quality materials as the shape needs to be durable enough to survive the heating process. Popular materials for freestanding bathtubs include porcelain, granite, marble, stone resin and copper.
Each material has their own pros and cons and largely changes the overall feel of the bathtub which provides consumers with more diversity in what they find ideal for their bathroom. The large material diversity also means that freestanding bathtubs are easily more affordable and can fit into any home.
8. Colors
Traditionally, most bathtubs are available in classic white, with white tubs providing a clean aesthetic that is easy to pair with just about any color scheme.
Freestanding bathtubs provide a large diversity of colors, the most popular being black, grey and white. A larger variation of colors helps to change the atmosphere and tone of your bathroom with white bathtubs matching well with bright colors such as blue, yellows and greens and darker tones matching well with greys and black bathtubs.
Add in the natural colors of different materials and you can see that freestanding bathtubs provide a large flexibility in color choices.
9. Easier to maintain
Freestanding bathtubs consistent of one large piece, rather than two separate pieces fused together. This allows for easier cleaning as freestanding bathtubs do not have multiple cracks and crevices for debris and mold to get trapped in. Compared to traditional bathtubs, freestanding bathtubs are the easiest to clean and maintain as you can easily move the bathtub to clean all surfaces without having to place yourself in an awkward position.
Conversely, since most freestanding tubs are constructed from higher quality material such as copper and stone resin, many of these materials are also resistant to staining and water damage, requiring even less maintenance to clean and maintain.
As you can see, freestanding bathtubs can provide numerous benefits to any home. Although they can be on the pricier end, they are a worthwhile investment that will last several life times and help to bring a sense of luxury and comfort to any bathroom.