What a year! 2022 has passed and what a challenging year it was. What better way to start the new year than refreshing your bathroom?
Keeping your bathroom modern and vibrant is no easy feat, but luckily, whether you have a large or small bathroom, here are a few easy bathroom trends that will help keep your bathroom looking resplendent for the year.
1. Freestanding bathtubs and sinks
A bathroom classic that doesn't go out of style and it's quite easy to see why as they match any bathroom decor with ease whether you want a more modern look of stone resin or something more classic like clawfoot or copper. Though they may appear pricey, both freestanding bathtubs and sinks will increase the value of your home as well as retain their value through the test of time.
Freestanding Bathtubs
Badeloft's collection of stone resin bathtubs showcases the perfect blend of sophistication and functionality. Crafted from robust white stone resin composite, these stone resin tubs come in either a sleek matte or a lustrous glossy finish.
Their unique design is not only aesthetically pleasing but also promises enduring quality and practicality. Featuring a built-in overflow system, integral design element seamlessly connects to the drain assembly, ensuring convenience and efficiency. The freestanding bathtubs, in particular, offer ample depth from the drain to the overflow, providing a spacious and indulgent experience for a rejuvenating soaking bath.
2. His and her Private Vanity Mirror Divide
A practical and very popular decor choice in many bathrooms as two sinks are better than one. With a double vanity set up, two people can easily prep and use the same bathroom without any fuss as there is ample space for both them and their items. The mirror being the important centerpiece, your focus should be on that first-make it as elegant and stylish as you desire and your vanities will only help to accentuate that feeling. This is also popular as it makes your vanity the primary focus of your bathroom, giving you some flexibility in how the rest of your items are placed as everything else is more of an accent to your double sinks and your mirror.
3. Bathroom Accent Walls
An accent wall provides a centralized location for your bathroom-a focal point for your vanity or your bathtub, whichever you wish to highlight. As the name suggests, it is a wall in your bathroom that is made from a different material or color to contrast against the rest of your bathroom. Popular choices are marble, brick, mosaic tile, natural stone and even wood in many cases, though the choice is up to you as plastic and paper are still quite commonly used. You can paint your wall black and it will function just the same or perhaps even a wall mural. And for the more modern look, you can even use mirrors as your accent wall-the choice is up to you.
4. Bold Colors
Adding vibrancy or a striking look doesn't necessarily require adding a new sink or cabinets, sometimes it is as simple as just repainting your existing bathroom. Another popular trend is replacing your old drab colors for something more striking and noticeable. Lime green is a common choice, giving your home a summer feel, while matte black is becoming very popular, providing a strong accent to your white accessories and toiletries. Blue matches well with more saturated spaces, orange adds more warmth and depth, the list goes on, so experiment and see what appeals to you.
5. Heated Bathroom Floors
A very common problem with going to the bathroom at night is stepping on frigid cold floors, and though heated floor technology has been around since the beginning of Rome, this trend is now becoming increasingly popular due to advances in electrical heating technology. Heated floors come in two variants, hydronic-a more updated version of roman technology which requires installing the entire house with the floor heating system which is comprised of rubber tubes that circulate the heat from your water heater and electric-a thin panel the size of an electric blanket is installed under the floor and is controlled by your thermostat and timer and should only cost around 600-700 dollars.
6. Modern Light Fixtures
Not often considered, but an easy and cheap way to upgrade your bathroom or any space is the inclusion of light fixtures. Even installing a small sconce near your mirror can greatly change the mood and lighting in your space. More popular though are small chandeliers or hanging bulbs which can greatly amp up the mood if desired, though since many of these fixtures run around 300-400 dollars, you can experiment with what you consider best fits your own style. Or, if you prefer, you can also make your own fixtures, giving you much more personal style and adding more vibrancy to your space.
7. Waterfall Shower with White Light Color Accents
Certainly not a new trend as turning your bathroom into a spa has invariably always been on the mind of many homeowners, but waterfall showers definitely make that dream more of a reality. The fixture provides a small waterfall in your shower which, when paired with a matching accent such as white light or natural stone and when affixed to a circular tub gives the appearance of a natural waterfall as the accent only helps to highlight the waterfall effect.
8. Chandeliers
On the same point as light fixtures, chandeliers give off an environment of resplendence and luminescence for not too heavy a price tag. These fixtures are easily the focal point of your bathroom, providing illumination to every nook and cranny. Although you don't always need to hang a dining room style chandelier to gain notice as there are much smaller versions on the market that are just as vibrant and visually striking. The more common of these is the starburst look, which appears like a glowing star, giving your bathroom a modern centerpiece.
9. Matte Fixtures
An increasingly popular trend, matte black is a bold and powerful color, easily striking and visibly noticeable. The demand for matte finished counter tops, sinks, cabinets, bathtubs even ceilings are on the rise and it doesn't seem to be diminishing anytime soon. With matte finishes, dirt and dust are not visible and the material is not easily permeable. So consider matte black if you want to give your bathroom a modern look that won't easily be forgotten.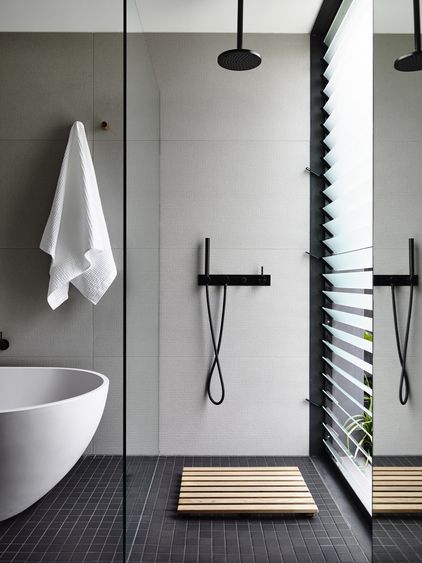 10. Enclosed or Hidden Toilets
For those who value a bit more privacy, hidden or enclosed toilets are toilets separated by either a small wall or a sliding door. Although usually spartan or barren in design,(these enclosures typically just have the wallpaper or tiling of your bathroom) you can get creative by making this small enclosure it's own room by changing the wallpaper and adding more accents like light fixtures, creating a more personalized sanctuary for you or your guest.
11. Water Efficient Toilets
With water usage being a concern not only for the environment but for your wallet, water efficient toilets are on the rise. Although the water bill savings is approximately 15-20 dollars a year, it is recommended to get a water efficient toilet if you are installing a new toilet as in the long run, you are reducing the total amount of water used, which will greatly affect both your water and sewage bill through the years.
12. Energy Efficient light bulbs
With vibrant lighting provided by chandeliers, sconces and other personalized fixtures, energy usage is something to be considered. So a common trend now is using energy efficient bulbs which provide a different sort of brightness, but more importantly use about 80% less energy and last twice as long. There are strange outliers of course, but generally, nearly all light fixtures can be fitted with energy efficient bulbs which will greatly benefit the environment as well as your wallet.
13. Bathroom Drapes
A necessity for many homes, window treatments or drapes keep the sunlight from pouring into your bathroom and possibly drying out anything unfortunate enough to be left out in the open. But with so many colors and patterns, you can easily transform your space into a space of softness, warmth and luxury to contrast harder materials in your bathroom like marble and porcelain. With floor-to-ceiling drapes, you can control just how noticeable of a statement you want to make with your drapes, depending on your color choice and the lucidity of the material you want to use.
14. Plants to Accent Bathroom Color
For many people, the bathroom is an oppressive place. Full of stone, tile and steel, it can be quite drab at times. Fortunately you can easily throw in a touch of green to make things much more appealing. Even just a small plant on the countertop can make the area more vibrant and alive. Also, in addition to helping your mental view of your own bathroom, many plants actually grow better in your bathroom due to the low light, high humidity and general warmth that a bathroom typically has. So experiment, throw in an orchid or two, or perhaps some pothos to add some air purifying strength to your bathroom or even something as simple as a basil plant can do wonders for your space.
15. Sound System-Music
Music is always a welcome addition, but for some of us it is often a necessity for relaxation and de-stress. Adding just a few small speakers in localized areas around your bathroom can create a calming and relaxing environment for a long, relaxing bath or even make your showers more invigorating. There are quite a number of waterproof speakers on the market for very affordable prices, so if you feel your showers are missing something, perhaps try adding some music into the mix.
16. Diverse Tile Textures
A subtle yet quite common trend is diversifying your tile textures. While this may seem like a drab change, there's a fair bit of potential, especially if the tile textures are those of your flooring as you can create interesting patterns with your tiles or change the material to feel more soothing to bare feet, perhaps a material that absorbs warmth? Which for anyone that has stepped on cold tile in the middle of the night would greatly appreciate. You can also change the tiles in your shower or bath, giving your space a much more rustic feel depending on the colors you wish to incorporate.
17. Black and White Photo Gallery
A nice trend not just in the bathroom but easy applied to the rest of your home. The popular idea is to take a piece of art you enjoy and display it center in your bathroom, building the rest of your bathroom around it. Art in general adds a nice accent to a space, drawing more focus to it. But, if you want it to be more personal, and you have a budding artist in your home, you can paint a mural or piece onto the wall of your bathroom, giving your space a splash of flair that is wholly your own.
18.Hidden Storage
A very popular trend with very practical applications as space and storage is always a premium in any bathroom. The concept is taking an existing item in your bathroom, ie, your cabinets, vanities, shelves and applying another storage area within it. Your vanity for instance, you can add small specialized compartments to the existing drawers inside for more personal items that won't mix with your other bathroom items. Your shower curtains can be fitted mesh space organizers, giving you easy access to your soaps and shampoos while saving space and being well hidden from sight. Hidden pull Out stools are another popular addition, giving those in your home with a height disadvantage an easy way to grab items from higher up if necessary.
19. Open concept
An ever popular trend is the open concept, providing both privacy and a wide open space whatever your preference. Doing away with restrictive barriers and walls and having just your bathroom exist as a large open area for your own needs provides a liberating feeling that will continue as a popular trend throughout 2022. Although it should be noted that while a shower-bath combo is a great idea, with this look, it might not be as practical so an open shower with a separate bathtub are recommended.
20. New Bathroom Fixtures
A trend continuing into 2022 is the emphasis on more minimalist fittings. Available in a larger array of looks ranging from black, gold or copper, they add a more industrial look to any bathroom, which pairs well with a new trend of exposed shower fixtures. These fittings pair well with a simpler looking tiling, which will draw more attention to the fixtures themselves.
21. Biophilic Designs
Need a touch of green in your life? In 2022, the growing trend is to incorporate plants not just as a standalone fixture, but add them into your walls and create a more green atmosphere for your bathroom, either with a wall of flora, natural material tiles or standalone tubs and shapes that are in more nature based shapes. With this trend, popular colors are soothing tones such as whites, greys and greens.
22. Small Spaces
While many view small spaces as cramped and limited, utilizing smaller spaces is a growing trend with the influx of studio apartments and much smaller houses nowadays. In support of this, there is more of a trend towards minimalist design, using smaller fixtures to achieve a cozy environment in a tight space rather than a cramped one. Since the space is small to begin with, more luxurious and expensive materials are much more affordable, giving you the potential for accented walls, tiles and unique designs on sinks.
23. Windows and Vanities Bathroom Mirrors
2022 is focused on saving space, and with the move towards vanities compared to traditional mass furnishings. Windows are a constant improvement to any bathroom, providing both an enjoyable view as well as adding natural light to your activities. While the traditional look is a mirror overlooking a vanity, some are incorporating an open window instead, with a smaller mirror placed on the side for a quick inspection.
While many of these trends are popular and for seemingly good reasons, they are by no standards for your own bathroom. They are guidelines and at the end of the day you should always implement whatever designs and styles make you comfortable-it is your bathroom after all.
24. Floating Vanities
Floating vanities have become a popular trend due to it's minimalistic design and space-saving features. Floating vanities come in an array of configurations and different storage features. They also make it easier to clean the floors beneath your sink and those hard to reach areas.
25. Aqua Tones
Aqua tones can bring a calm and a dream-like quality to any space. Aqua is a mixture of turquoise and teal, which pairs well with nature, with an emphasis on sea and sky themes. They can help to define a space as more fun, vibrant and playful and pair well with any bright colors such as white or green.
26. Natural Materials/Sustainable Materials
Sustainable materials are growing in popularity in 2023, with large fixtures such as sinks, toilets and bathtubs using natural materials like stone and wood. Customers are leaving synthetic materials behind and using their sinks to create an impressive centerpiece that helps tie in the rest of the bathroom.
27. Whirlpool Tubs or Steam Showers
Whirlpool tubs have always been a popular option for the home as they provide a unique bathing experience in the comfort of your home. Additionally, a whirlpool doesn't require any special equipment for it's use, just extra maintenance. In a similar vein, steam showers are also gaining traction as they essentially add a sauna to your home. Like a sauna, steam showers can help reduce stress, detoxify your body, and can clear congestion. Paired together, a whirlpool and a steam shower can help transform your home into a day spa.
28. Walk-in Showers
Designed for those with movement difficulties and the elderly, walk-in showers have started to gain more traction as they are also comfortable and safer than a traditional shower or tub. With additional grips, handholds, a seat and massaging jets, walk-in showers don't have to be for the differently-abled, they can also provide a more relaxing shower experience.
29. Colorful Sinks
Make a bold statement with a bright color in any of your bathrooms. Colorful sinks help create character and contrast in an otherwise small space. Bold colors are on the rise this year and can help to transform any bathroom, making it feel more spacious and attractive. So consider using a bold color like aqua, gold, red, or green for your small bathroom to make a statement.
30. Wooden Vanities
In 2023, wood is in with wood patterns, vanities, and flooring on the rise. The advantage of wood is that it compliments a wide variety of styles from rustic and natural wood vanities and flooring appear on the rise. The advantage of wood is that it compliments a wide variety of styles from rustic approaches to warmer, modern aesthetics. The biggest drawback of wood in the past was its aversion to moisture, but as long as you properly maintain and treat the wood, it should last for at least 50 years.
Eric is the founder and president of Badeloft USA. He has been the president of Badeloft's US division for over ten years and oversees all marketing and branding aspects of Badeloftusa.com.
His expertise lies in small business development, sales, and home and bathroom industry trends and information.
Contact us with any business related inquiries.