Can you make your bathroom feel luxurious and spacious without breaking the bank? The answer is yes, with proper paint, accessories and lighting. Below, we have compiled some helpful tips to help transform your bathroom into a luxury destination that will easily make you the envy of your neighbors.
Add a Freestanding Bathtub as a focal point
A high end freestanding bathtub can act as a primary focal point for your bathroom. By using simple colors such as white and brighter tones, you will provide your guests with a more relaxing environment. In addition, a more elegant bathtub can help elevate your other fixtures such as your sink, vanities and allow you to create a look centered on the bathtub itself. A stone resin bathtub will mesh well with a more modern bathtub color scheme such as black and greys, whereas a more classic white can help to bring more beauty and life to your bathroom.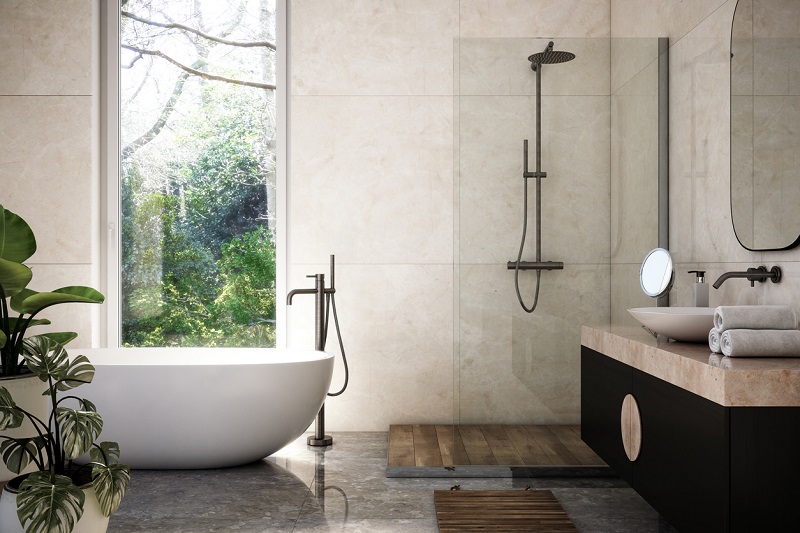 Consider Elegant Lighting
As with the case of an elegant bathtub, lighting can help create a luxurious and relaxing environment even if the rest of your bathroom may not be quite as expensive or luxurious. The key here is to utilize elegant lighting sources-chandeliers and sconces provide an excellent starting point. Chandeliers provide a focal point for your bathroom, allowing you to tailor your bathroom around it while it retains the center of attention. In fact, with elegant lighting, you can highlight elements of your bathroom while hiding less appealing aspects of your bathroom simultaneously. Placing lighting behind a mirror, for example, can help brighten the appeal of the mirror and compliment any decorative trim you might have chosen.
Install Freestanding Sinks
Freestanding sinks serve two purposes-they help to alleviate any space problems you may have while making your bathroom much more elegant and luxurious. Although it may seem practical to install a sink within a vanity, a freestanding sink provides your bathroom with a great deal of flexibility-your sink is not tethered to one area and you are free to place it wherever you wish. This can help to make your bath space seem more elegant with multiple sinks in key locations to prevent your bathroom from seeming cluttered and cramped. With a large selection of classic and modern design, installing freestanding sinks in your bathroom can immediately elevate it's appeal.
Add a Vanity
A staple in many bathrooms, providing both a luxurious aesthetic in addition to storage space. A nice vanity can help to elevate any bathroom space and provides a blank canvas to add a whole host of decorative trim and unique design. In its simplest form, a vanity is simply a cabinet that has the ability to house a singular or multiple sinks. But with creative vision, you can easily transform your vanity into whatever you wish. Using either modern design, your vanity can be constructed from a large variety of different materials ranging from wood, granite, marble, or steel. You can opt for a more classic design with a polished wooden trim or go for a more modern approach, using your vanity as more shelf mounted brackets instead. Regardless, adding a vanity to your bathroom can brighten up the appeal of the space while providing adequate storage space.
Add complementary towels and linens
Complimentary colors and designs will always do wonders in elevating your bathroom's appeal. Towels and linens are fairly inexpensive ways of accomplishing this. Consider what colors compliment the look and appeal of your bathroom-whites and brighter colors provide a sense of clean and relaxation whereas darker colors can instill a sense of peace, similar to sleep. Understanding this, you can choose towels and linens that match this aesthetic to further compliment the space.
Consider candles and other accents
Similar to towels and linens, you should consider small additions such as candles and other little accents to compliment the space. Accents may include additions such as decorative towel racks, toilet paper holders, small shelves, wall fixtures and mirror frames. The addition of candles and small accents can go a long way in establishing a mood and atmosphere for your bathroom. Consider using the candles to provide a tranquil area around your bathtub, whereas any decorative trim can be used on your vanity drawers or mirror frames.
Install new countertops
New countertops can largely transform the look and feel of your bathroom when in use. Although countertops may not be noticed by everyone, no one can mistake the feel and look of a granite or natural stone countertop. The beauty of a countertop is that they can be constructed with any pattern or design that meshes with the rest of your bathroom, adding to the luxurious and expensive aesthetic. And, for those that use your bathroom on a daily basis, they get to enjoy the feel of a well-crafted countertop.
Paint with Earth tones
Earth tones can help your bathroom feel more open and expansive. Classic colors such as copper, marigold, deep navy, burnt browns, terracotta and variations of deep yellow can be applied to any aspect of your bathroom's walls, fixtures and tiling to create this aesthetic. Earth tones also compliment large potted plants and spacious windows to create a luxurious retreat.
Add marble tile accents
Marble tile is a classic look for many bathrooms. A sturdy material, marble accents can be used in a large variety of different patterns and can greatly accent whatever wall design or paint you wish to apply. With the classic setup, you can easily make your bathroom appear closer to an ancient roman spa, or if you'd like, you can contrast your marble tile with regular tile to match a darker aesthetic. In short, marble tile accents pair well with nearly every wall design and can help bring a sense of luxury to a given space.
Install New Faucets
Faucets are an often overlooked but important aspect of any bathroom. With a variety of materials such as copper, nickel, brass and stainless steel, faucets can help compliment any bathroom aesthetic. Faucets will weather through general use and no one likes using old faucets. New faucets provide a pleasurable bath experience for everyone while adding a subtle accent to the rest of your fixtures.
Mount Additional Mirrors
Additional mirrors can help create a stereoscopic effect in your bathroom, providing more depth to first time viewers. These mirrors also allow multiple guests to use your bathroom and make it appear more spacious and larger than it actually is. Additional mirrors also allow you to accent them with different frames and trims for a sense of contrast that can greatly elevate the look of your bathroom.
Hidden or accented storage
Every bathroom immediately benefits from more storage, but everyone knows that a bathroom can sometimes feel like an extra storage closet. Hidden or accented storage solves this problem by hiding or placing your storage out of general foot traffic while adding an accented vanity. You can even place storage bins inside of the accented vanity to provide even more storage space for the rest of your bathroom. The beauty of using an accent for storage space is that the accent blends seamlessly with the rest of your bathroom, providing an elegant looking vanity while simultaneously helping to alleviate some of the clutter.
Use indoor plants
Indoor plants can breathe new life into your bathroom with a pop of green. Adding a large indoor fern or some flowers can do wonders for helping to transform your bathroom into a spa-like retreat. Consider placing potted plants in your bathroom, on your vanity, or the window where it can attract more sunlight. If you want a more advanced look, you can even place hanging plants above to create a strong focal point. Indoor plants pair very well with brighter color tones such as blues, greens and whites.
Add vases and focal pieces
Vases and focal pieces such as a sculpture can help to make your bathroom more of a "lived-in" space and make it feel more rustic as a result. The beauty of vases and sculpted objects is that they mesh with a large variety of color schemes and generally will always mesh with your bathroom. In a similar vein, a vase or an important focal piece can help you create your bathroom's aesthetic. If your bathroom seems too plain or it feels as if it's lacking a vital element, vases, wall art or other crafted objects can help to tie the look together.
Consider the appeal of wall art
Wall art can add a fantastic pop of color and human touch to your bathroom. Using your wall art to pair with your existing color scheme can do wonders for the aesthetic and feel of your bathroom. When paired with either a wall paint or wallpaper design, wall art can be used to great effect in amplifying the relaxing or vibrant qualities of your bathroom.
Hire a professional
A professional can bring a fresh new perspective to your bathroom. They can assist with keeping you within your budget while you transform your bathroom into a luxury destination. Their experience is a valuable asset in pricing, spacing and installing the necessary aspects to your bathroom to make it feel more expensive and elegant to your guests. For those that have an issue on where to start, a professional decorator is a great place to start for helpful tips and advice.
With proper use of color and the right accessories, you can transform any bathroom into an elegant and luxurious space. Remember that the space is yours to customize as you see fit, so experiment with what works best for you to help create a luxury space for you and your household.
Eric is the founder and president of Badeloft USA. He has been the president of Badeloft's US division for over ten years and oversees all marketing and branding aspects of Badeloftusa.com.
His expertise lies in small business development, sales, and home and bathroom industry trends and information.
Contact us with any business related inquiries.