Undermount Sink UB-05-L
-
Material:
High Quality Stone Resin
Dimensions:
31.4 x 16.7 x 7.1 in
Color:
Matte White, Glossy White
The Badeloft Undermount Sink UB-05-L is a rectangular sink in our original white stone. Badeloft's undermount style is one of the most popular sink mounts in luxury bathrooms. The sink affixes to the underside of the counter, maximizing counter space above and leaving the countertop free of seams and lips. The clean, seamless look fits well in minimalist spaces and also makes for easier cleaning thanks to a lack of crevices where grime can accumulate. 
At over 2.5 feet long, this large undermount sink easily accommodates multiple simultaneous users while conserving counter space, making it ideal for private baths and commercial restrooms of all sizes. The sink basin is flat as opposed to the classic bowl shape and features an extra-spacious depth of over 7 inches, maximizing space for handwashing and soaking.
The sink is made from Badeloft's proprietary stone resin material, a blend of natural marble and limestone. The unique material combines the pleasing, cool-to-the-touch feel of stone and the sheen of acrylic in your luxury bathroom. Stone resin is non-porous and resistant to all types of damage, ensuring your sink looks new for years to come. 
Badeloft's signature white stone is the most versatile of our color options. A perfect complement to contemporary and traditional bathroom designs, white stone has the appeal of porcelain but will not dull or chip over time. Your white stone sink comes in a matte or glossy hand-buffed finish. The sink includes a pop-up drain in your choice of color and an overflow channel.
| | |
| --- | --- |
| Material: | High Quality Stone Resin |
| Dimensions: | 31.4 x 16.7 x 7.1 in |
| Weight: | 32 Lbs |
| Color: | Matte White, Glossy White |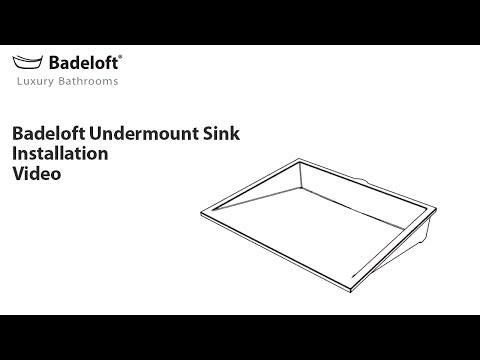 Similar to Corian, stone resin is a composite of acrylic polymer and natural minerals. It is an ideal material for high quality bath fixtures as the heat retention is amazing. Our products are manufactured to be eco-friendly using non-toxic materials that are safe for our clients. It is 100% non-porous and is unaffected by external forces such as moisture and humidity.
Because of difference characteristics in the matte and glossy finish there can be minimal differences in the sizes.
360° View
Click to begin. Left-click to turn/rotate. Trackball to zoom.
Customers Project Photos
Click to see more