Undermount Sink UB-05-L-GRY
-
Material:
High Quality Stone Resin
Dimensions:
31.4 x 16.7 x 7.1 in
Color:
Matte Gray, Glossy Gray
The Badeloft Undermount Sink UB-05-L-GRY is a rectangular sink in our limited grey color. The below-counter mount maintains a flush countertop surface with no visible seams or creases. Popular in modern design, the clean, minimalist look of an undermount sink is also easy to maintain, as there are no crevices to trap grime and debris. 
At over 2.5 feet long, the rectangular sink easily accommodates multiple users and fits well in commercial and private bathrooms. Featuring a deep, flat basin, it's one of our most spacious large undermount sinks, appropriate for both handwashing and soaking. 
The undermount sink is made from Badeloft's proprietary stone resin, a blend of natural marble and limestone. Stone resin is incredibly durable, combining the strength and cool feel of stone with the enduring sheen of acrylic. The material is non-porous and damage-resistant, allowing for easy cleaning with a damp cloth. Your sink comes with a Badeloft guarantee to ensure it maintains its like-new sheen for years to come. 
This sink is available in our limited grey color. Badeloft's soothing light grey is a neutral color that brings soothing energy to bathrooms in any design style, though it is especially attractive in contemporary and industrial spaces. It has been referred to as the color trend of the decade, as it enhances depth in modern black-and-white bathrooms as well as colorful spaces.  
This Badeloft undermount sink comes in a glossy or matte grey finish. It includes a pop-up drain in a color of your choice and an overflow channel.   
| | |
| --- | --- |
| Material: | High Quality Stone Resin |
| Dimensions: | 31.4 x 16.7 x 7.1 in |
| Weight: | 32 Lbs |
| Color: | Matte Gray, Glossy Gray |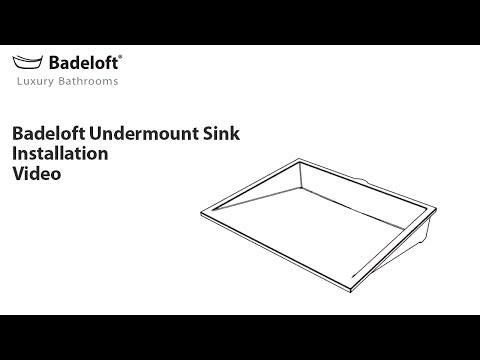 Similar to Corian, stone resin is a composite of acrylic polymer and natural minerals. It is an ideal material for high quality bath fixtures as the heat retention is amazing. Our products are manufactured to be eco-friendly using non-toxic materials that are safe for our clients. It is 100% non-porous and is unaffected by external forces such as moisture and humidity.
Because of difference characteristics in the matte and glossy finish there can be minimal differences in the sizes.
360° View
Click to begin. Left-click to turn/rotate. Trackball to zoom.
Customers Project Photos
Click to see more