There are several toilet sizes on the market so today we will look at how to pick the right size for your home and what to look for.
What is the Standard Toilet Size?
The standard toilet size has a depth of 28-30 inches, with a width of 20 inches and a tank height of 27-32 inches. This allows for a rough-in measurement between 10-14 inches. 
How is a Toilet Measured?
To measure for a replacement toilet, grab a tape measure and follow these steps:
1. Tank Height
Measure the tank height by running the tape measure from the floor to the top of the tank lid. You want as close to the very top edge of the tank lid as possible.
2. Toilet Depth
Determine if you have a round or oval bowl. Now run the measure from the front of the seat to the back of the tank. From here you can determine if you want to keep your bowl shape or upgrade to a different shape or size.
3. Rough-in
Rough-in measures the distance between the wall and the center of the waste pipe. To get this measurement, measure from the wall to the middle of the bolt caps of the toilet. If you have four bolt caps, measure to the rear set of bolt caps. 
With these measurements, you should now be able to visit any hardware store and buy any toilet you need.
ADA Compliance and Toilets
An ADA-compliant toilet refers to a specific height requirement that caters to those with disabilities. The seat height is the first requirement, with the distance from the seat to the floor needing to be 17 inches or 43 centimeters minimum and 19 inches or 48 centerminters at the maximum. The toilet must also be 60 inches or 152 centimeters wide with a flush lever on the open side. The center of the toilet must be between 16-18 inches from the side wall as well to make the toilet ADA-compliant.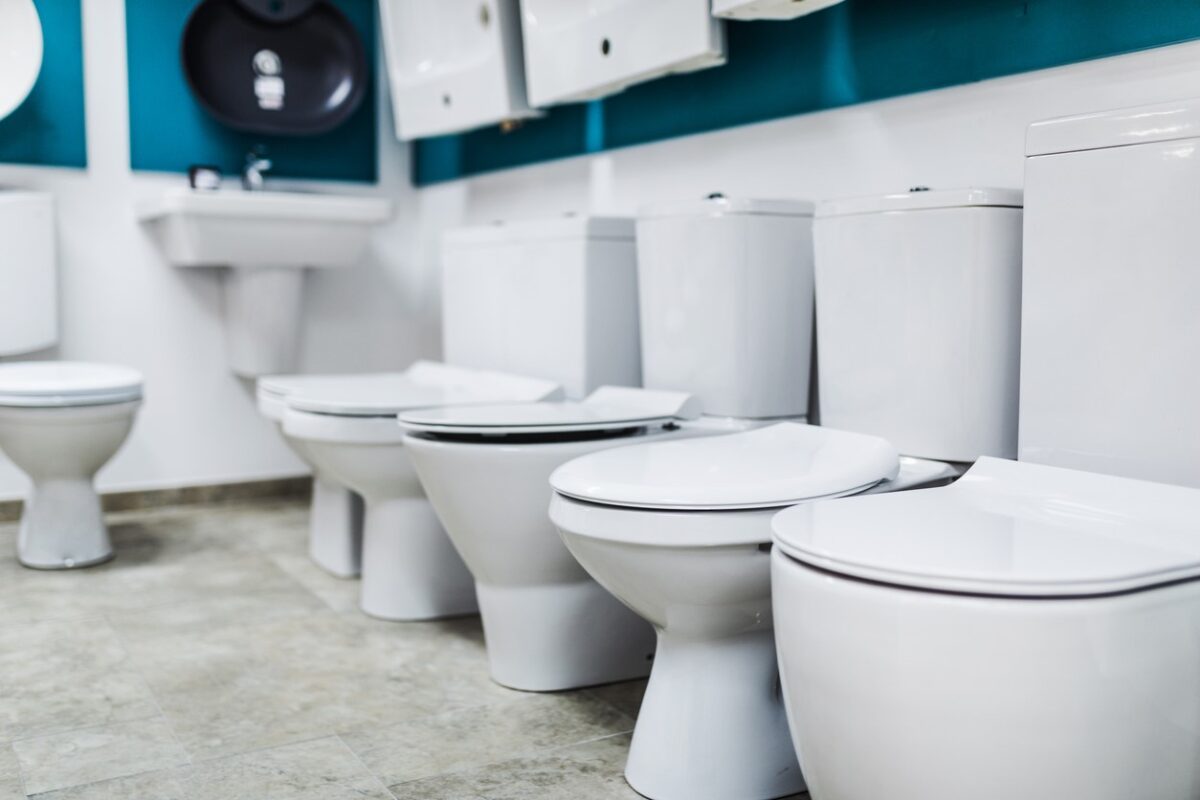 Common Questions
Are Toilet Seats the Same Size?
No, toilet seats aren't the same size as there is no set standard for all toilets. Because of this it is important to measure your seat and bowl to determine the appropriate size for your toilet.
10 vs 12 inch Toilet – How to Tell Which One You Need?
In general, unless you have space constraints, you should opt for a 12-inch toilet. This is because 12 inches is considered the standard with many toilet options and it can fit almost every bathroom type. This also makes repairs and maintenance on them quite easy. On the other hand, 10-inch toilets are more specialized for small spaces and are great if you don't have a great deal of space to work with. However, you trade this with being more expensive to install and maintain.
Are all Elongated Toilet Seats the Same Size?
No, there is no set standard, so all elongated toilet seats will have varying sizes.
How to Choose the Right Size of Toilet for Your Bathroom
So how do you choose the right toilet for your bathroom? Simply follow these steps:
1. Attain the proper measurements
Remember to start with the height of your existing toilet, then discover the depth and finally the rough-in distance. Having these measurements will give you a good understanding about the size of the toilet you are after.
2. Shop around
Remember that there are numerous places to purchase a toilet so don't be afraid to shop around to find the right fit for your home. Compare and contrast price alongside quality and features to ensure that you get the best deal. 
3. ADA compliance
Ensure that your toilet is compatible with ADA standards. Future proofing your toilet will ensure that you do not need to replace it in the future in the event that you will require a more ADA compliant setup. 
4. Ensure comfortability
Remember that your toilet is a fixture that you will be using for long periods of time and for your health, it needs to be comfortable to sit on. Seeing it in person is key to test out it's physical aspects and see if it's compatible with your body.
When it comes to toilet sizes there is no general standard, so you have a good deal of freedom to choose how big you want your toilet. However, just keep in mind that you should have ample space between the toilet and it's surroundings to ensure that nothing feels too cramped. Additionally, you want to have a decent size for your water closet to ensure that you don't have to deal with any plumbing issues in the future.